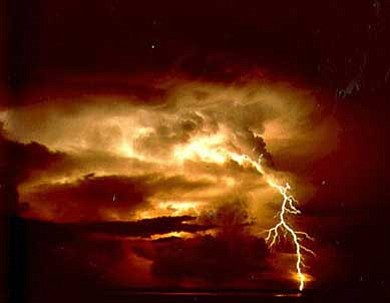 Originally Published: June 21, 2011 12:44 p.m.
The National Weather Service (NWS) specifies the duration of monsoon season as June 15-Sept. 30. This is a time during which residents of, and visitors to, northern Arizona are at potential risk of experiencing hazards produced by monsoonal thunderstorm activity. These include damaging winds, large hail, lightning and flash flooding. June 19-25 is designated as Lightning Safety Week. This year's theme is "When Thunder Roars, Go Indoors!"
According to the NWS, every thunderstorm produces one or more bolts of lightning. In the United States, an average of 55 people are killed each year by lightning. To date there have been four deaths in 2011. As many as 15 are injured because all of us are exposed to thunderstorms during the course of monsoons and we need to know how to protect ourselves.
Indoors is the only truly safe place to be during a thunderstorm. Any sturdy, enclosed structure will serve this purpose - school, home, store, etc. If you cannot get indoors, another alternative is to remain inside a hard-topped vehicle with the windows roll up. In either case, stay away from interior metallic objects (wiring, plumbing, etc.). These metal conductors will carry electricity safely to the ground in the event of a lightning strike.
Do not forget to safeguard electronic appliances in your home. The most reliable way to protect sensitive electronic appliances (televisions, computers, etc.) is to unplug them before thunderstorms develop. If thunderstorms have already begun, stay away from appliances and their cords since these are possible pathways for lightning's electrical charge.
Remember you can safely use a cell or cordless phone if it isn't connected to its charger or base. Don't ever use a telephone with a cord during thunderstorms. It's connected directly to metal conductors that may bring the lightning's electrical charge your way.
Each thunderstorm is unique and thunderstorms are sometimes beautiful to view. Enjoy the monsoons and the moisture these storms bring safely. For more information on lightning and lightning safety, visit www.lightningsafety.noaa.gov/.