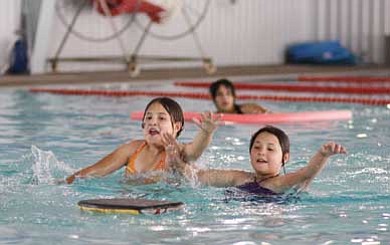 Originally Published: June 14, 2011 1:28 p.m.
The first day of summer is Tuesday. The temperatures continue to rise and the days are longer. Hopefully the monsoons will arrive early this year. We need the moisture. It's time to get out our white shoes and swap our warm weather clothes for cooler attire. Remember to drink plenty of water.
Let's not live this summer as we have past summers. Make the summer of 2011 one to remember. Release the inner child that lives inside you and celebrate the summer season.
A vacation is not necessary to make this a summer to remember. It is easy to create memories without spending a lot of money. Visit any store and you will find many inexpensive ways to bring summer alive.
Grab some colored sidewalk chalk. Children are not required to host your own sidewalk art show. Draw away! The chalk washes away easily while the smiles remain.
Add a frisbee to your basket. Challenge a friend to a game of frisbee or play with your dog. Don't have a dog? Borrow your neighbor's dog.
Don't forget fun with water. A friendly water balloon fight is a great way to cool off after a game of frisbee.
Push aside the gas barbecue grill and pull out a hibachi. Have charcoal, hot dogs, hamburgers and watermelon on hand. Light the grill. It's true; food cooked over charcoal does taste better. Add a few friends to the mix. Bring out the horseshoes.
After dinner, drink sparkling cider out of fancy, plastic glasses and watch the sun set. Remember the fun you had not only today, but all the yesterdays, too. End the day relaxing in a hammock while gazing at the stars.
Embrace summer and make the most of it. Enjoy these warm days. But most importantly, don't hide the child that lives inside of you any day of the year. Don't forget how to laugh. Unlike white shoes, laughter never is out of season.