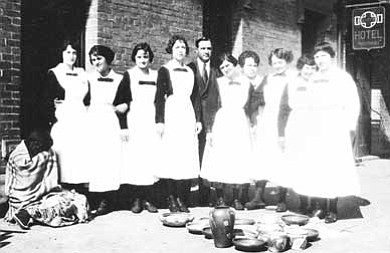 Originally Published: June 14, 2011 1:51 p.m.
WINSLOW, Ariz. - Dr. Mary Melcher, curator of the Arizona Women's Heritage Trail's traveling exhibition How Splendid is our Past, presents her lecture,
"The Arizona Women's Heritage Trail - Marking Their Sites," for Winslow's grand opening of the exhibition at La Posada Hotel on Saturday.
Melcher's lecture, which takes place from 2-3 p.m., highlights northern Arizona women on the Trail such as the Harvey Girls and Mary Colter, La Posada's famed waitresses and architect, respectively. The talk is free and open to the general public, and is made possible by the Arizona Humanities Council and the Winslow Historical Society's Old Trails Museum.
In partnership with La Posada and the Winslow Harvey Girls, the Old Trails Museum also presents a concurrent exhibit, Women of Winslow, as well as free Second Saturdays in Winslow programs on women's history until the close of How Splendid is our Past on Sept. 5.
Melcher's lecture kicks off a year of Second Saturdays in Winslow that will explore various aspects of Winslow's diverse history, in celebration of the Arizona State Centennial on Feb. 14. The Arizona Women's Heritage Trail has an Arizona Centennial Legacy Project designation from the Arizona Historical Advisory Commission.
The Old Trails Museum is owned and operated by the Winslow Historical Society, a 501(c)(3) nonprofit corporation, and receives, preserves, and interprets information and artifacts representing the history and cultures of the Winslow area, in order to engage and enlighten all visitors to the museum's exhibits and programs.
Located in the heart of Winslow's historic business district and across from the Standin' on the Corner Park, the Old Trails Museum is open Tuesdays through Saturdays 11 a.m.-3 p.m.
Admission is free, and photography, group tours, and research opportunities are available. There is free parking downtown, and the museum's exhibits are wheelchair accessible.