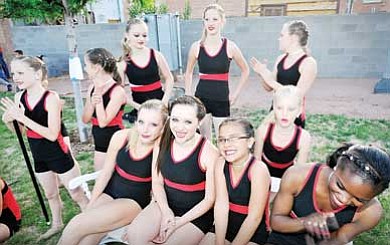 Originally Published: June 7, 2011 2:22 p.m.
WINSLOW, Ariz. - June 3 kicked off the 2011 series of Winslow Summer Nights. Typically the events are held every Friday and Saturday evening at 7 p.m., beginning in June and ending at the close of August. This event was held in Standing on the Corner Park on Second Street next to Kinsley Avenue. This is the general location for all of the summer events. The June 3 event was a dance performance of the dancing girl troop named Winslow Stars. The girls range in age from 5 to 14-years-old and dance and do acrobatics to music. The Winslow Stars are known throughout Arizona and beyond and perform all year around at different venues.
This particular event was a combination of "Stars" dancing and fundraiser-sale-raffle for the family of Hayden Walton, who died in an unfortunate accident while playing in a Little League baseball game this past week. Turnout was large for the dancing and fundraising. Over 200 people attended and the cash coming in was plentiful. The crowd was somewhat subdued over Walton's passing, but showed great community support for Walton's family and friends.
More like this story