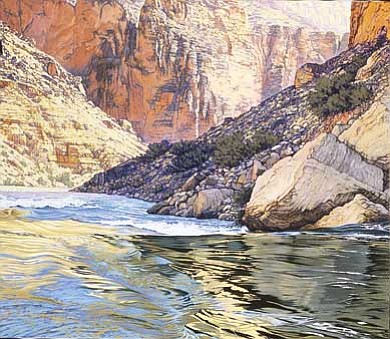 Originally Published: June 7, 2011 2:02 p.m.
FLAGSTAFF, Ariz. - Of the many artists who have focused their creative energy on depicting the Grand Canyon, none have developed as intimate of a relationship with this subject as Bruce Aiken. He immersed himself in the Canyon's epic grandeur and his ability to translate that grandeur into paintings has become his legacy.
Full Measure - The Artistic Legacy of Bruce Aiken, will be on display June 19- Sept. 6.
at the Museum of Northern Arizona in Flagstaff. The display will present Aiken's Canyon paintings, along with works from trips to Mexico, France, and Italy; paintings from his artist-in-residency at NASA; and his most recent up close portraits of Grand Canyon rocks.
"This exhibit will provide the most comprehensive overview, yet, of Aiken's life and work, including fifty oil paintings, drawings, and prints. Aiken's passion for Earth's landscapes and rocks will be seen in his most recent body of work, which examines in rich and detailed, microscopic views the rocks of the Canyon," said Alan Petersen, MNA curator of fine art.
"The Museum is very pleased to present Full Measure. Aiken has become an iconic artist of the Grand Canyon region. He follows in a grand tradition of such artists as Thomas Moran, Louis Akin, Gunnar Widforss, and others who have been inspired by the Grand Canyon, and who have given us a rich artistic legacy by interpreting its colors, landforms, clouds, and waters," said Museum Director Robert Breunig.
Aiken was born in New York City and was guided by his artist mother in his creative endeavors. He left home at 19 and headed for the West with $100, a 35mm camera, and a sketchbook. He enrolled at Phoenix College, where he took classes in geology, and also in figure drawing from artist Merrill Mahaffey, who would become a lifelong friend and mentor. It was at this time that he met his future wife, Mary Shields, and talked to her of his dream of leading "an exceptional life in an extraordinary place."
Aiken's first experience with the interior landscape of Grand Canyon came during a 1970 hike to Phantom Ranch. Captivated by the Canyon's spell, Aiken spent two seasons working on a trail crew. Three years later he left his art studies behind and moved to the North Rim. Within a year he had landed a job as a water plant operator for the National Park Service's pump house near Roaring Springs in Bright Angel Canyon, five miles down the North Kaibab Trail. This new position allowed him to explore the Canyon from the inside out in the 33 years that he and his family lived in its inner depths.
Retired for the last five years from his NPS position, Aiken now has a studio in downtown Flagstaff.
"From the noisy din of Manhattan's concrete canyons to the quiet, inner spaces of the Grand Canyon, Bruce Aiken has truly created 'an exceptional life in an exceptional place' for himself and his family. The result of that commitment has been a body of artwork, created over 40 years, that depicts the Canyon and the surrounding region with a veracity rarely seen in the history of the Colorado Plateau," said Petersen. "Aiken's complete immersion in his subject nurtured his growth and established his position as a master among Grand Canyon painters."
"Aiken enthusiastically credits the early 20th century Swedish-American watercolorist Gunnar Widforss as his greatest influence. Like Widforss, Aiken places great emphasis on knowledge of the subject and its constituent parts, conveyed through highly accurate drawing and depiction of light and shade," Petersen added.
A preview of the Full Measure exhibit will be the featured activity at MNA's Fifth Annual Gala Weekend. The Gala Dinner on June 18 and the Members' Brunch on June 19 will offer an opportunity to meet and speak with Aiken. Gala festivities include a silent auction cocktail hour, a catered dinner by Simply Delicious, and a spirited live auction with auctioneer Will Blume with works by Colorado Plateau artist, including a painting by Bruce Aiken. For tickets, visit musnaz.org/gala or call (928) 774-5213, ext. 270.
Gala sponsors are Arizona Public Service Company, Blue Cross and Blue Shield of Arizona, Northern Trust, N.A., the Barringer Crater Company, César Mazier Landscaping and Consulting Inc., Flagstaff Medical Center Foundation, Kinney Construction Services, Hufford, Horstman, Mongini, Parnell and Tucker P.C., McCoy Motors, Miller | Russell and Associates, National Bank of Arizona, Randy and Carol Schilling, and Russ Lyon | Sotheby's International Realty.
The Museum of Northern Arizona presents a schedule of changing exhibits of fine art from the Colorado Plateau. The museum sits at the base of the San Francisco Peaks, in one of Earth's most spectacular landscapes. With a long and illustrious history, MNA evokes the very spirit of the Colorado Plateau. Three miles north of downtown Flagstaff on Highway 180, and on the way to the Grand Canyon, the museum is open 9 a.m. to 5 p.m. daily.