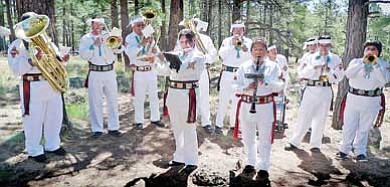 Originally Published: June 7, 2011 1:56 p.m.
FLAGSTAFF, Ariz. - The 21st Annual Zuni Festival was held at the Museum of Northern Arizona in Flagstaff on May 28-29. There were a large number of Zuni artists displaying and selling Zuni Art. Fourteen categories of craft awards were given out to a total of 25 individual winners.
There were events all day, both days. The festivities included: Olla Pottery Maidens, Zuni Map Art Exhibit - Jim Enote, a puppet show featuring "A Dragonfly's Tale," Zuni Pueblo Band, Zuni Salt Lake - Jim Enote, the Nawesta Family Dancers, "Zuni Search For The Middle Place" - Curtis Quam, and "Grand Canyon And Zuni Sacred Sites" - Octavious Seowtewa.
21st Annual Zuni Festival Award Winners
Best of Show Award
Carlton Jamon - Coral Squash Blossom Necklace
MNA Spirit Award
Edward Wemytewa - The Endangered Humpback Chub
(If the Fish is Sacred to the Zuni, the Zuni Must be Fish People)
Fetish Carving - Traditional Awards
First Place - Lynn Quam - Ammonite Bear with Sun Faces
Second Place - Daryl Shack Sr. - Searching Bear
Honorable Mention - Lorandina Sheche - Mole
Fetish Carving - Contemporary Awards
First Place - Raymond Tsalate - Dancing Frog Carving
Second Place - Raymond Tsalate - Sky-The Rainbow
Honorable Mention - Troy Sice - Dancing Bear with Bolo Tie
Jewelry - Traditional Awards
First Place - Ola Eriacho - Hopi Sun Maiden Necklace
Second Place - Smokey Gchachu - Zuni Rain Necklace Set
Honorable Mention - Mike Yatsayte - Six Directional Necklace
Jewelry - Contemporary Awards
First Place - Carlton Jamon - Coral Squash Blossom Necklace
Second Place - Myron Panteah - Silver Cutout Set
Honorable Mention - Rolanda Haloo - Dragonfly Pin
Pottery
First Place - Noreen Simplicio - Bowl With Raised Frogs
Second Place - Gilbert Lalio - Owl Pot
Honorable Mention - Gilbert Lalio - Large Olla Pot
Textiles
First Place - Aric Chopito - White Weaving
2-D Fine Art
First Place - Kyle Wauneka - Wide Sleeved
Second Place - Geddy Epaloose - Shuma.gol Ima
(The Place of the Dragonfly)
Koko Carvings Awards
First Place - Robert Cachini - Siwolo Buffalo
Second Place - Barry Gasper - Longhorn Set
Honorable Mention - Barry Gasper - Ogre
Sculpture Awards
First Place - Edward Wemytewa - The Endangered Humpback Chub
(If the Fish is Sacred to the Zuni, the Zuni Must be Fish People)
Second Place - Edward Wemytewa - Shosuwanne Reed Snare/Decoy
Youth Awards (16 years or younger) - Pottery
First Place - Kenneth Epaloose - Traditional Olla Water Jug
Youth Awards (16 years or younger) - 2-D Fine Art
First Place - Matthew Neha - Butterfly Spirit
Senior Awards (65 years or older) - Fetish Carving
First Place - Bobby Shack - Buffalo