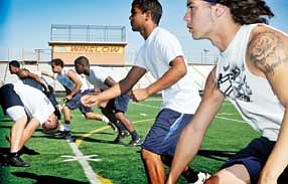 Originally Published: July 26, 2011 11:23 a.m.
WINSLOW, Ariz. - Summer Football Camp is occurring on the Winslow High School (WHS) campus/community. Last week WHS is hosting Desert Ridge High School, Willow Springs High School, Cactus Shadows High School, Shadow Mountain High School, Verrado High School and Mesquite High School.
This is a wonderful camp that gives great competition for schools around the state. Participants also learn from some wonderful coaching staffs from around the state including former WHS Head Football Coach Matt Gracey, who is the head coach now at Mesquite High School in Gilbert. In addition, the Head Coach at 5A State Runners Up Desert Ridge High School Jeremy Hathcock brought his team back to Winslow for a third year. Coach Hathcock used to be the head coach at Show Low High School. Practice begins with a run around 6 a.m. and ends around 10 p.m. Some of the activities include 7 on 7 tournaments, lineman challenges, and participants are split up according to position to learn from some of the great coaching staffs around the state to enhance their skills before the season begins. Over 400 students are participating.
This week, teams from Desert Vista High School, Desert Ridge High School, Winslow High School, and possibly two more teams will be coming to Winslow.