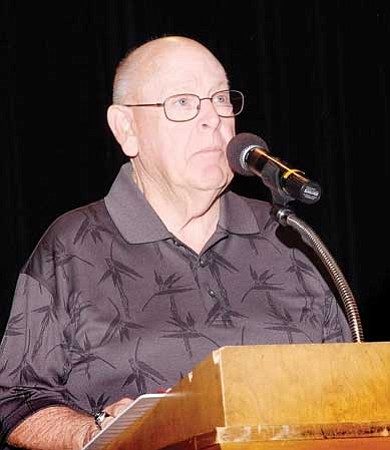 Originally Published: July 19, 2011 10:17 a.m.
WINSLOW, Ariz. - Winslow High School Athletic Director and retired girls' basketball coach Don Petranovich was honored recently by a national coaches' association. Petranovich was honored by the National High School Athletics Coaches Association in a banquet held in Grand Rapids, Mich. The honor was for lifetime achievement. He retired in 2010 after winning his eighth Arizona State Championship with a victory over Window Rock.
Petranovich's career record of 778 wins and 159 losses in 41 years of coaching, all at Winslow High School, is more than any coach is state history. He was replaced by his assistant and junior varsity coach Jarron Jordan.
Blue Ridge High School football Coach Paul Moro was honored at the same meeting by the organization. Moro led Blue Ridge to the 3A finals last season, before losing to Show Low. Moro has won 11 state championships at Blue Ridge during his illustrious career. This was the third time he was up for the national award, and the first time he won.
Mesa Mountain View High School boys track and field coach Robbie Robinson also won national honors but his were from a different organization, the National High School Coaches Association.
Petranovich has been active in sports in Winslow as an athlete, a coach and currently as an athletic director. He has also seen time as an official and is one of sports' most enthusiastic and successful supporters. The Winslow High School gymnasium has been named for Don Petranovich. He has also been active in the Arizona Athletic Association (AIA) serving on the Board of Directors among other things. He organized one of the most successful and prestigious girls' basketball tournaments in the Southwest with the Winslow Winter Classic.