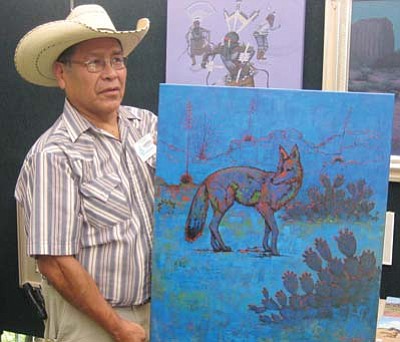 Originally Published: July 19, 2011 9:56 a.m.
PRESCOTT, Ariz. - There were plenty of Hopi and Navajo artisans at the Prescott Indian Art Market (PIAM) July 9-10 at Sharlot Hall Museum.
Randy Keedah, who was selected as the featured artist last year, won the top prize for his two-dimensional painting this year. He was one of several Navajos prominently displaying their work.
Keedah specializes in Western, American Indian and Southwestern fine art. However, this year he was displaying paintings of roadrunners and coyotes.
"Some people asked me about roadrunners and others asked me about coyotes so I try to give the public what they want," he said. "I love to do horses and Navajo people, but not everybody likes one of those."
The coyote painting is called 'Desert Nights' as he hoped to capture that scenery.
Keedah has won awards from Southwestern Arizona State Museum, Phippen Art Museum and PIAM.
He was born in Steamboat, but was abandoned by both his parents before he was 2-weeks-old. His grandmother found him and his grandparents raised him. He grew up on a sheep ranch, which gave him a love of mother earth, the American Indian people and western life.
Like many at that time, Keedah was sent off to boarding school in Utah. By the age of 14, he was drawing three-dimensional art. As a freshman, his teacher let him sit in the back drawing horses and other special projects while the other students learned the basics. He won the Outstanding Art Student of the Year as a freshman.
While in high school, Keedah found a book by Charles Russell and "fell in love with his art." Later, he discovered Bill Owen's work on the cover of Western Horseman magazine. So, he became enamored with western cowboy art.
Keedah loves painting horses, but he also paints Navajo girls. His goal is to make colors, land and people come alive in his paintings. He paints only peaceful and happy scenes.
Hopi artist Gerry Quotskuyva, who is known for his Kachina dolls and paintings wasn't one of the winners, but after a June 12 motorcycle accident injured his hand, he felt lucky to be able to continue his art.
"It slowed down my work. I wondered how my paintings would come out," he said. "I can't carve like before so I focused more on the paintings. I can still carve a bit. Considering I'm one-handed, I'm happy with the quality of the painting."
Quotskuyva uses many symbols to represent clouds and rain. His unique style has been recognized nationally on a public television series titled "Living in Balance on Shatki-Hill".
Quotskuyva's work has been shown, featured and won awards at various museums and galleries throughout the country. He creates sculpture style kachina dolls. The full figure style depicts the kachina dancers as they look during the ceremonies.
Hopi artisans Weaver and Alberta Selina have worked together on their art for 40 years. He creates sterling silver inlay jewelry while she creates basketry and handles most of the customers at their gallery.
"It's fun. I like working with my hands," he said. "I like it because I'm my own boss and we have our own gallery. I'm a known artist so people come to me. They place orders on email and through my webpage, so I don't have to go after customers."
Weaver said he started to learn the craft at Third Mesa Hopi Crafts, but learning is always an ongoing process.
"I keep getting better. I try to go above the other artists I know," he said. "I learned that the key to good art is not making it too busy. Keep it simple and customers can focus on the work."
Weaver, who went to high school near Yosemite National Park in California, said his parents were artists.
Weaver and Alberta Selina own Rising Sun Gallery at Second Mesa.
Cherokee artist Jesse Hummingbird is one of the mainstays each year at PIAM. He tantalizes art lovers with his colorful paintings that mix the modern and traditional.
For example, his painting "Let the Night Begin" shows the stomp dance used for prayers. The background has birds and stars. A lot of his art shows the night including the reoccurring moon.
"I want my art to make people feel good. That's important," he said.
Hummingbird said due to the poor economy that art sales are down. However, he recently served as an artist in residence at the Ted DeGrazia Student Gallery of the Sun in Tucson. He advises other artists to apply for this artist in residency experience.
Hummingbird mixes his traditional Cherokee art with many other art forms including the Jewish painter Chegal. He mainly paints acrylics and etches.
Hummingbird has won major awards every year since 1984.
Hummingbird is self-taught, but continues to learn from friends.
Sharlot Hall is located two blocks west of the courthouse plaza at 415 W. Gurley St., Prescott. For more information, telephone (928) 445-3122 or log onto www.sharlot.org
A complete list of winners included:
Best of Show - Tim Washburn for his sculpture.
Jewelry - First, Al Joe; second, Jimmy Harrison; third, Bruce Hodgens.
Pottery- First, Aaron Cajero; second, Esther Cajero; third, Geri Pawas.
Sculpture - First, Tim Washburn, second, Howard Sice; third, Adrian Wall.
Two-Dimensional - First, Randy Keedah; second, Wallace Ben; third, Michelle Tsosie Sisneros.
Traditional - First, Rena Begay; second, Jessica Lomatewama; third, Justin Lomatewama.
Judges Choice - First, Michelle Tsosie Sisneros; second, Norman Bia; third, Prinston Collateta; and fourth, Letjune Chavez.