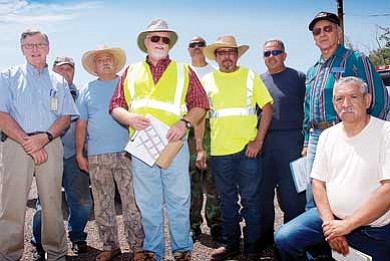 Originally Published: July 19, 2011 10:14 a.m.
WINSLOW, Ariz. - The group responsible for planning and implementing Walkway Improvements in neighborhoods south of the BNSF rails in Winslow, met July 6 to walk the proposed construction areas. This is phase one of four phases, which eventually provide sidewalks along all streets throughout the communities.
This phase will put walkways along Central Street in Coopertown and along Washington Street in Southside. This initial phase for these two areas will cost $764,000. In order to complete all phases of the project it will be necessary to spend $3,534,900. Winslow Councilman Thomas Chacon is the city's point man on this project.
For more information, contact Chacon at (928) 289-3292.
More like this story