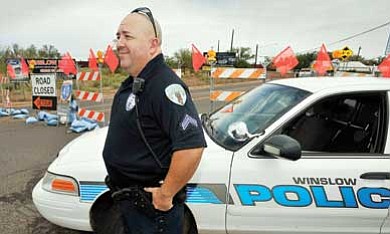 Originally Published: July 12, 2011 4:19 p.m.
WINSLOW, Ariz. - Travelers going north or south on State Route (SR) 87 at Winslow will experience some significant changes/detours when the BNSF underpass is closed for the present construction. When the underpass is closed, traffic using SR 87 will go west two miles, over the BNSF rails on the Winslow Industrial Spur, then east two miles to get to SR 87.
The detour should be well marked. The major impact on travelers will be adding another 30 minutes to their normal trip time.
The intersection of Williamson Avenue and Second Street will be closed for through Aug. 10. Additional work will occur after Aug. 10, but traffic lanes will be open at this intersection.
The underpass on Williamson Avenue will be closed for two weeks. During the closure, motorists will detour through Coopertown. Additional traffic control signs will be placed in Coopertown and the speed limit will be reduced to 15 miles per hour.
The intersection will reopen prior to school starting, all construction is scheduled to be completed in time for major community events that are planned in September and October.
For more information about this project, please visit www.azdot.gov/williamsonsignals.