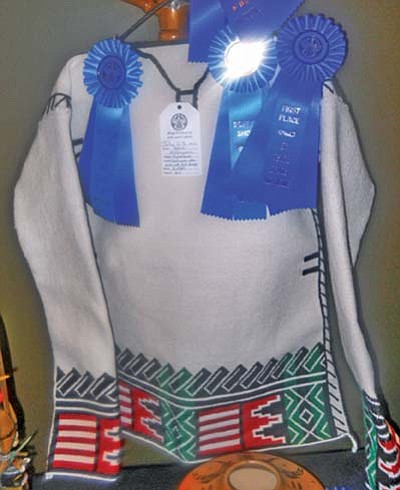 Originally Published: July 12, 2011 3:43 p.m.
The Museum of Northern Arizona (MNA) held their annual Hopi Show over the Fourth of July weekend, drawing large audiences and a variety of art.
The show is billed as being the oldest Hopi show in the world, with the first Hopi show being held in 1930. This annual weekend at the MNA is the highest attended Native inspired art event of the three tribal festivals that the museum holds.
Awards given this year numbered 30 separate categories and the top win of the weekend was a traditional men's cotton embroidered shirt, with an accompanying traditional men's kilt, made by Daniel Kelhoyouma.
This was a first time Best of Show win for Kelhoyouma. His entry brought many accolades by not just the visiting art patrons, but also by the Hopi crowd who attended the Friday night opening reception.
Along with Kelhoyouma, additional category winners this year included Wallace Lomakema - Director's Award, Mavasta Honyouti - MNA Spirit Award and Ramon Dalangyawma - MNA Memorial Award.
Several artist and cultural presentations were also available for the public to attend in both education and art emphasis, including traditional dances by both the Nuvatukya'ovi Sinom dance group, pottery demonstration by Dorothy and Emerson Ami, musical performance by Blind Destiny, Hopi Migration by Eric Polingyouma, traditional music by Donald Dawahongnewa and Tiffany Banimptewa and Clark Tenakhongva.
The 62nd Annual Navajo Festival of Arts and Culture will be held at MNA on Aug. 6-7.