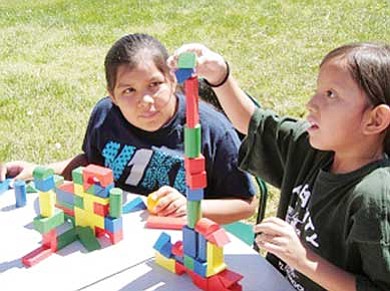 Originally Published: July 6, 2011 10 a.m.
TUBA CITY, Ariz. - Local kids and their families found out that learning together can be fun at the Second Annual First Things First Family Fun Day, held June 25 in Tuba City.
Children splashed at the water tables, built cities out of blocks, and used their creativity to finger paint masterpieces, while their parents learned about early child development and resources to help them in their communities. Many activities were available for children to help stimulate their intellectual, physical, and social development, including family interaction.
"It was great to see everyone get involved," said Larita Stevens, a First Things First staff member in the Navajo Nation. Stevens noticed families having a great time while doing simple activities, such as playing a memory game. At one point, a grandma showed she was young at heart by participating in a modified obstacle course with her grandchild.
The day was not only fun; it was a learning experience for most. More than 95 percent of attendees said they learned something new about early childhood development. With multiple community resources available at the event, many families walked away with tools they need to prepare their kids for success in school and beyond.
The First Things First Navajo Nation Regional Partnership Council sponsors the Family Fun Day every summer. Melissa Begay, Navajo Nation Regional Director, stressed the importance of the event because, "It's an opportunity to provide the best child development and parenting information." By sponsoring and participating in Family Fun Day, "We strengthen our children, families and communities through education and developmental awareness."
First Things First partners with families and communities to help more children start kindergarten healthy and ready to succeed. Research has shown that 80 percent of a child's brain development happens before age 3, and a child's early experiences lay the foundation for a lifetime of learning. Because of this, the job of helping children succeed in school starts the day they're born.
For more information on Family Fun Day, or any First Things First initiatives, please contact FTF at (928) 810-4306. Stay connected with FTF on its website, azftf.gov.