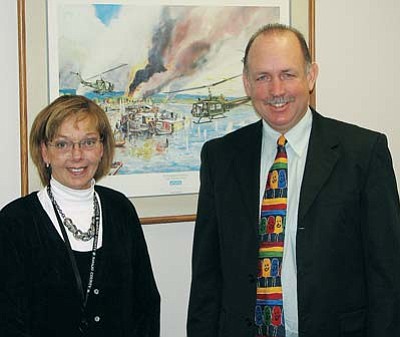 Originally Published: January 20, 2011 1:23 p.m.
HOLBROOK, Ariz. - Pam Rodriguez of Heber has joined the Navajo County Attorney's Office in the newly created position of Director of Community Services. She fills a vacancy created when longtime Victim Services Director Evelyn Marez was elected as the new Holbrook Justice of the Peace.
In her new position, Rodriquez will be responsible for directing the office's Victim Services Division and Bad Check Program, as well as providing leadership to the Interagency Council on Child Abuse and Neglect (ICAN).
Navajo County Attorney Brad Carlyon said the expansion of Marez' former position into the broader one of Community Services Director was a logical move since the Victim Services Division, Bad Check Program and ICAN all focus on assisting crime victims and protecting their rights. The Victim Services Division assists crime victims and their families in understanding and enforcing their legal rights and receiving support services. The Bad Check Program assists businesses and individuals in collecting on bad checks, while ICAN provides a wide variety of services to assist victims of child abuse and neglect and adult sexual abuse.
"Pam will have big shoes to fill," Carlyon said, explaining that under Marez the Victim Services Division evolved from a fledgling operation to a model for the entire state. He said Marez assisted him in redefining the position and selecting Rodriguez as her replacement.
"We had a number of exceptionally well-qualified candidates, but the interview team agreed Pam would bring the strongest combination of management, financial and public relation skills to this new and challenging position," said Carlyon.
Rodriguez comes to the County Attorney's Office with some 30 years of government service at the state and federal levels. She most recently served as a veterans' advocate in Show Low, assisting veterans and their families in obtaining benefits with the federal Department of Veterans Affairs. She had previously retired from the National Guard after 27 years of service, achieving the rank of Colonel and serving as an Army aviation officer.
Rodriguez said she will "have to hit the ground running" due to the number of Community Services events on the immediate horizon.
"We're opening a Family Advocacy Center in Show Low in the late spring and a second one in Holbrook in the late summer or early fall," Rodriguez explained. She said each Family Advocacy Center will serve as a central location where victims of abuse and their families can meet with medical examiners, mental health specialists, victim advocates, representatives of state agencies, law enforcement representatives and prosecutors in a convenient, non-threatening environment.
"We're also planning our activities for National Crime Victims' Rights Week, this year scheduled for April 10-16," Rodriguez said. She said the annual event, sponsored by the U.S. Department of Justice, is intended to promote victims' rights and honor crime victims and those who advocate on their behalf. This year's national theme will be "Reshaping the Future, Honoring the Past," and local activities will culminate in Victims' Rights Conference on April 15.
According to Rodriguez, maintaining the funding for her office's programs and finding new funding sources will probably be her most important responsibility over the long term.
"Our activities depend heavily on grants and donations, as well as volunteer services," she said. "To provide the level of service we want to provide and that crime victims have a right to expect, my team and I are going to have to leave no stone unturned in our search for funding opportunities and ways to increase volunteer participation."
In announcing the appointment of Rodriguez, Carlyon also announced that longtime Victim Advocate Jaquel Moody will be taking on increased responsibilities within the Victim Services Division.
"We obviously have to be careful about spreading the Community Services Director too thin, and Jaquel has shown her strong commitment to victims and their families for more than eight years in her current position," Carlyon said.
Carlyon added that Gail DeCross, who has headed the Bad Check Program for many years, will remain in her position in Show Low and continue to be the principal face of the program.