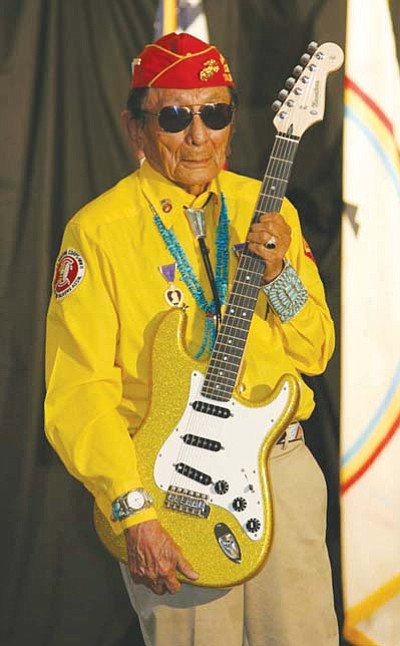 Originally Published: January 11, 2011 5:19 p.m.
KAYENTA, Ariz. - Little did a small group of young Navajo men know that an unbreakable secret code created from the ancient language of their people would change the course of modern history.
In the midst of WWII, a group of 420 Navajo warriors used the Navajo language as code on the battlefield. From 1942 to 1945, the code was never written down as it echoed life-saving words onto radio communications from fox holes, trenches, deep in the jungles, and the slit trenches of Saipan, Guadalcanal, Iwo Jima, and Tarawara, Japan.
The code was developed to combat Japanese intelligence experts, who broke every other code developed by U.S. forces. The original group of 29 "code talkers" were recruited in 1942 to develop the code. Although the code was modified and expanded throughout the war, this first group was the one to conceive it. Only a handful of these brave "code talkers" survive today.
Samuel Tom Holiday was one of these brave and courageous Navajo warriors. Only 280 Navajos saw combat duty as "Code Talkers." In April 2000, Holiday, along with all the Navajo Code Talkers, received the Congressional Silver Medal, the highest civilian medal the U.S. can award. Holiday and other Navajo Code Talkers served with distinction in every major engagement of the Pacific theater from 1942-1945, with their unbreakable code playing a pivotal role in saving countless lives and hastening the war's end.
The United States Marine Corp and then-President Ronald Reagan declassified the information related to the Navajo Code Talkers on Aug. 14, 1981.
To honor the Navajo Code Talkers, Shonie De La Rosa has created and dedicated a very special, custom made guitar to the Navajo Code Talkers. A limited run of only four Navajo Code Talker guitars will be built, one for each of the four traditional Navajo cardinal directions. De La Rosa was inspired by these local heroes - farmers and sheep herders - on the Navajo Nation who used the Navajo language as an unbreakable code during the most intense days of conflict during World War II.
Navajo Code Talker guitar serial No. CT001 will grace the floor of the Native American Pavilion at NAMM 2011 in Anaheim, Calif. At 2:30 p.m. on Saturday, Jan. 15, Holiday will make a very special appearance to sign the Navajo Code Talker guitar.
After the NAMM show, the guitar will be taken back to the Navajo Nation to be signed by the rest of the surviving code talkers. It will then be donated to the Navajo Code Talkers Museum in Window Rock where it will be showcased to honor their service, dedication, and the sacrifices these brave man have given for their country.
For more information on Samuel Holiday, visit www.samuelholiday.com
For more information on Shonie De La Rosa, visit www.navatone.com.
More like this story