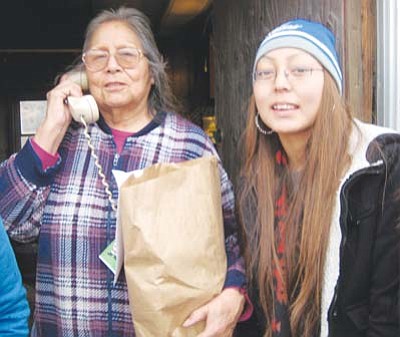 Originally Published: January 11, 2011 7:13 p.m.
POLACCA, Ariz. - Hopi High School's National Honor Society delivered more than 200 turkeys and the fixings to the elderly Dec. 16-17.
Lavonne Adams, NHS advisor for Hopi High said the food drive is a wonderful service project for the students because it teaches them to work toward a goal and to do it for the benefit of others.
"I believe there are many elderly people who could use the help," she said. "All were very thankful. Some cried. Some smiled. Some shook hands and hugged. Many said thank you. Their appreciation was noticeable."
Adams said it is important for the students to connect with the elderly. She has been involved with the project for many years. She said the twist this year was getting enough money and food donations to serve 200 people, which was a record amount for this drive.
Candace Tso, a senior, said it was nice seeing all the elders.
"It was fun and awesome. Their faces brightened up when they saw us standing on their door steps with bags of goodies and turkeys," she said. Tso said the best part was helping the elders by bringing them Christmas joy and spirit as well as the food.
"When we would deliver to most of them, they would start crying. It meant a lot to them," she said.
Tso said she would want to do it again because even though it was freezing, cold, snowy and rainy that the NHS students made the best out of their food deliveries.
April Silas, a senior, said the food drive went well.
"This was important because it helped the elderly," she said. "The elderly were very happy and I would want to do it again."
Stephanelle Mutz, a senior, said she had fun delivering the food to the elderly and seeing how happy they were when they opened their doors.
"It's important because the elderly need help. Some can't get into town and get food, so this food drive was really helpful to some," she said.
Brooke Namoki, a junior, said the food drive is a lot of work and takes a lot of effort from all the NHS students.
"We had a very good outcome and it was worth all the work," she said. "It is important because there are a lot of needy elderly out there and that's what NHS is for."
Namoki said there are a lot of needy people because there is a lot of unemployment.
"It was exciting to see the elderly be very thankful with big smiles on their faces. Many even joined us when we sang Christmas carols to them," she said. "I am looking forward to next year but with bigger bags filled with more goodies."
Hayley Keith, another junior, said she thinks the food drive is a wonderful program and a great way to reach out to help the community.
"It is very important because it can be hard for many of our elderly community members to go out to buy a nice Christmas dinner," she said.
NHS started by fundraising at basketball games and then made donation boxes and dropped them off at different places in the Hopi community, such as the local stores. She said the elders were grateful as their faces would light up and they would say thank you multiple times.
"Their reaction was the best part of the whole experience," she said.