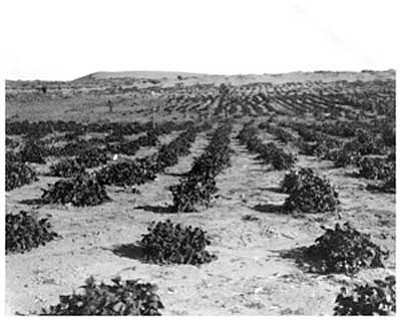 Originally Published: January 11, 2011 4:08 p.m.
KYKOTSMOVI, Ariz. - One of the ways Natwani Coalition has sought to carry out its vision of preserving and restoring the healthy food system and agricultural traditions of the Hopi and Tewa people is through events such as the Hopi Historic Agricultural Photo Exhibit and Hopi Agricultural Expo. This public event is slated to open Jan. 22 from 10 a.m. to 4 p.m. at the Moenkopi Legacy Inn and Suites.
The one-day Hopi Agricultural Expo will include free presentations, workshops, and demonstrations by noted Hopi individuals that will provide insight into Hopi tradition and agriculture. The day will also include Hopi dance performances, a sampling of traditional Hopi foods and the opportunity to meet various presenters.
A rare photographic perspective of Hopi agriculture from the past to the present will be on display at the Legacy Inn through Nov. 1.
When asked what sparked the photo exhibit, Leland Dennis, Natwani Coalition coordinator and exhibit curator, answered, "When Hopi people first emerged into this Fourth World, they asked Maasau, the Earth Guardian, if they could live here (Hopi Reservation). Maasau offered the people a bag of seeds, a water gourd, and a planting stick and explained that the Hopi way in the Fourth World would be hard, but the Hopi way would provide a long and good life. The ethic of 'self-sufficiency' has always been at the root of the Hopi way."
Dennis continued, "Maasau set aside Hopitutskwa, Hopi lands, as an area where he would watch over the Hopi and allow them to live as stewards over a land of plentiful natural resources ... which would sustain the Hopi and become integrated into their lives, both physically and spiritually, through their adaptation to the land. The practice of maintaining traditional knowledge as a living heritage and ensuring its preservation contributes to the Hopi community and its people and as a way one may achieve a happy, healthy and self-sustaining life. The photo exhibit is a way to share and teach the values and the traditions of Hopi farming as passed on by our ancestors."
"On a personal note, when I am around someone who has seen these historic Hopi photographs for the first time, it makes me wish I could go back in time and experience farming as those Hopis did in the photographs. It is exciting," Dennis concluded.
This event is presented through the support of The Christensen Fund and The Hopi Foundation with support from Natwani Advisory Committee, volunteers, Shungapovi Village, the Moenkopi Villages and the sponsorship of The Moenkopi Legacy Inn and Suites, a Hopi owned enterprise.
For more information, contact the Natwani Coalition, a project of the Hopi Foundation at
(928) 734-2390 or e-mail natwani_coalition@hopifoundation.org.