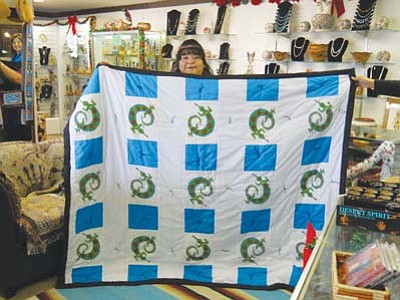 Originally Published: January 4, 2011 6:46 p.m.
KYKOTSMOVI, Ariz. - Vonette Monongya, Badger Clan from Kykotsmovi, was inspired by her late mother Elaine Shebola Monongya in 2002 to learn the fine art of quilt making. Blankets and quilts are special gifts on the Hopi Reservation.
From the first quilt that a Hopi infant receives at their 20-day naming ceremony, to the blanket that a godparent gives you at a Bean Dance "Powamuuya" initiation - to the wedding quilt or Pendleton blanket given to the new bride and groom and even to the final Pendleton or quilt used to wrap the deceased before burial - blankets and quilts are a special protective wrap for fragile human beings. For the giver of such a gift, its meaning is to convey warmth, protection and love.
Monongya's mother taught her how to use a sewing machine, measure fabric squares precisely, how to paint and design Hopi traditional patterns and how to blend colors and printed fabrics to create a pleasing eye catching piece of fabric art that will keep the receiver warm and cozy.
Monongya's father, renowned retired Hopi carver, Von Monongya, encourages his daughter to "try something different" with her designs and has been one of the strongest supporters of her fabric art. Using patterns that are primarily Hopi traditional in design, Monongya also uses special designs created by Merle Calnimptewa.
Monongya spent her first year of quilting just watching and assisting her mother, measuring, painting the designs that her mother had drawn on the fabric with pencil. It was a few months before she actually got up enough confidence to make an entire quilt on her own. Now it only takes Monongya two days to finish an entire custom designed baby blanket.
In addition to the baby quilts, Monongya also makes twin, double, queen and king sized quilts. Monongya's quilts are in such demand that she has entered and shown her quilts in several art shows, including the Hopi Tuhisma, Museum of Northern Arizona's Hopi Festival and the recent Hopi Heritage Art Show sale in Flagstaff.
Average pricing for a Monongya original baby quilt starts at about $75, but the larger, more complex pieces can average around $400 to $500. Gaining more confidence and popularity over the past year has spurred Monongya to want to enter larger Indian art competition shows. She hopes to enter the world renowned Santa Fe Indian Market this year with her fabric creations.
For more information or to place an order for a quilt, contact her at (928) 266-3825.