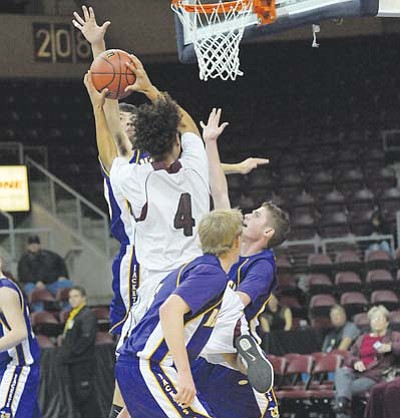 Originally Published: February 23, 2011 4:38 p.m.
PRESCOTT, Ariz. - The 3A North Region teams in the boys' Arizona State 3A Conference Basketball Tournament did well in the quarterfinals played at Prescott on Tuesday, Feb. 22. The Winslow Bulldogs, Holbrook Roadrunners and Monument Valley Mustangs all won their games to advance to the semi-finals. Window Rock was the only 3A North Region team to lose and that loss was to Monument Valley.
The Winslow Bulldogs defeated the Blue Ridge Yellowjackets 67-57. The win improved Winslow's record to 28-6 for the season and ended Blue Ridge's season within a 22-8 record.
The Bulldogs had a one point 15-14 lead after the first period but were up 35-26 at the half. Kraig Shirley hit a three pointer at the buzzer to extend the margin to nine. He also canned another three pointer for the last score of the third quarter which gave Winslow a commanding 51-37 advantage.
Shirley led all scorers with 29 points for Winslow. Jevon Estelle was the only other Bulldog in double figures with 10 points. Nick Johnson led Blue Ridge with 21 points and Cody Carlson was in double figures for the Yellowjackets with 10 points.
The Bulldogs will play Holbrook at 7:45 p.m. at Glendale on Friday in a semi-final game. The Roadrunners defeated Snowflake 70-55.
Monument Valley defeated Window Rock on Tuesday 73-53 to advance to play Fountain Hills, a 70-57 winner over Round Valley. The Mustangs had a two point 14-12 lead after the first period but were up by double digits at 39-28 at the half and a commanding 57-41 after three quarters.
Alan Todachine led the Mustangs with 20 points. Zachary Keith with 17 points and Pierson Bronston with 12 were also in double digits for Monument Valley. Ote Manson led Window Rock with 16 points. Kyler Ashley with 13 points and Jaydiamond Taliman with 12 points were also in double figures for the Scouts.