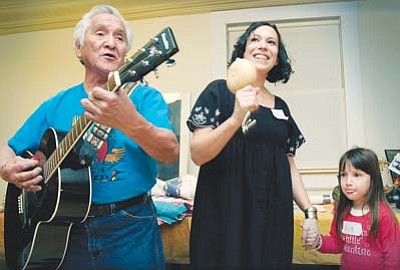 Originally Published: February 15, 2011 1:52 p.m.
WINSLOW, Ariz. - The historic Hubble Building was the site of the Winslow Arts Council's annual art auction on Feb. 11. The well-attended event was the most successful of the art series in size and participation. There is no entry fee, nor any fee to display or sell art. There was a 10-foot-long table with food and another table with desserts for no charge as well. The food was cleaned out by the end of the evening, but the table of desserts still had plenty left. The selection was massive.
This year, there was live music by Joe Maktima's family, a magic act, martial arts demonstration and a Hopi song sung by Sidney Poolheco, Tewa. About a dozen door prizes were given out throughout the auction. All ages attended and even some children bid on auction items. The participation by artists was excellent and there was no display space unused. The auction lasted about two hours with many great donations from local artists.
Dr. Greg Hackler served as the auctioneer doing a terrific job and entertaining the crowd as well. Internationally known artist Tina Mion donated a signed poster from her "Presidents" series and Dan Litzick and wife Anne-Mary from the La Posada Hotel donated items as well. Litzick also had a display of his art and information on the upcoming art gallery planned for the train station at the La Posada Hotel.
Everyone had a great time. Food, music, entertainment and art bargains were well covered. Winslow Arts Council Chairwoman Sarah Smithson and her cohorts did a good thing.