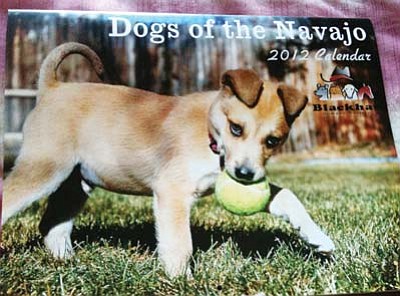 Originally Published: December 23, 2011 12:55 p.m.
CHINLE, Ariz. - It's been 10 years since the BlackHat Humane Society (BHHS) came into being. This year marks the10th anniversary of their efforts to rescue, nurse and adopt out "Rez" cats and dogs that are found roaming reservation roads, parking lots and communities. These animals have no homes or decent health care.
Cindy Yurth serves as BHHS' president. Her officers are selling their annual "Dogs of the Navajo" calendar for $15 each, which includes shipping.
The young puppy featured in the month of January named "Steel" is a good example of the beautiful strays that BHHS finds and nurtures back to health. The animals are spayed or neutered prior to being placed on BHHS' website for adoption. Anyone can go online, browse their website and see what kind of dogs or cats are available to good homes immediately.
Steel was found in a parking lot in Chinle, on the Navajo Reservation by one of Yurth's husband's music students. Yurth is a reporter for the Navajo Times and her husband, Eric Swanson, is the music teacher for Chinle High School. Between the two of them, they have adopted out almost 50 animals in their time doing volunteer work for BHHS.
The calendar is BHHS' major annual fundraiser. The calendar increased in popularity this year due to a friend and supporter named Jason Gross. Gross was visiting from Buffalo, N.Y. when he happened to befriend a rez mutt in Kayenta as he was training for a special diabetes run.
Gross wrote an animal interest article for the Buffalo News. Within weeks, BHHS had over 100 orders for their Arizona-based calendar. The money generated from these orders has since paid for several spay and neuter clinics.
"It's been so rewarding to be able to help with the animal population here at Chinle and the surrounding rez areas," said Yurth. "For us to be able to help these stray animals and get them a good home is a real reward for us as volunteers knowing how some of these animals would just suffer if we couldn't assist in some way. I feel really fortunate that there are so many of our volunteers who are willing to provide foster care until we can get them to new homes. The sale of this calendar is really helpful to provide monetary support for that."
To order a calendar, visit www.petfinder.com/shelters/rezdog.html. Calendars can be purchased via PayPal. Checks and money orders can be sent to BlackHat Humane Society, P.O. Box 3843, Chinle, AZ 86503. The cost is $15 dollars and includes shipping.