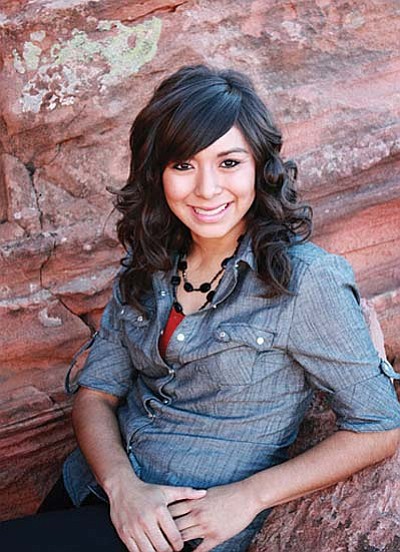 Originally Published: December 14, 2011 11:14 a.m.
FLAGSTAFF, Ariz.-The Northern Arizona Native-American Foundation (TNANAF) recently awarded a $1,000 scholarship for university to Talia Loy. Loy, born in Fort Defiance, is a 2010 graduate of Page High School. She is the daughter of Lorna and Elton Loy and sister to Sean and Levi Loy. Loy is currently enrolled at Brigham Young University (BYU) in Provo, Utah.
In her third semester at BYU, she has recently become an official speech pathology major.
"I am a full-time student with 14 credit hours. Besides all the busy work school gives me, I have been looking for ways to help share my Navajo culture and I accomplished this by joining the Tribe of Many Feathers Club," said Loy.
Richard Vail, the English Department Chair at Page High School, highly recommended Loy for TNANAF's annual honor. "Ms. Loy is one of the best students I have had recently at Page High School. She has the scholastic skills and language facility to excel at a challenging university." He continued, "Her character is beyond reproach and, she is always pleasant, even when the task is difficult," he said.
The Northern Arizona Native-American Foundation, established in 2005, has granted nearly $30,000 in scholarships in its first six years. TNANAF's primary goals are to assist graduating seniors on their way to college and to assist students in the lower grades of high school in pursuing summer programs. The deadline for applicationsis May 1. Interested students can download the application from TNANAF's website www.tnanaf.org.
More like this story