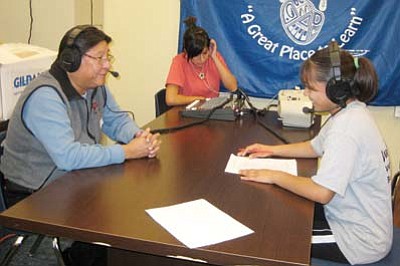 Originally Published: August 3, 2011 4:15 p.m.
Native American radio broadcasters recently celebrated the fifth anniversary of Native Voice 1(NV1).
NV1 is a Native American programming distribution service that supplies national radio programs to radio stations throughout the nation. NV1 comes to Hopi, Navajo and other reservations through KUYI in Polacca and KGHR in Tuba City. NV1's most well-known shows include Native America Calling, Native American News and Undercurrents.
Burt Poley, who serves as network manager for NV1, said he loves his job because it allows him to work with native and non-native radio stations. Poley came on board more than five years ago when NV1 took over the reins from American Indian Radio On Satellite (AIROS).
Poley, who previously worked as operations manager at KUYI on Hopi, said NV1 has improved the billing since taking over from AIROS. He said this helps bring more money into NV1 in order to keep the programs going.
Poley, who is Hopi and Laguna, said the best way to get audience responses is on the Native American Calling show because listeners call in to discuss topical issues.
"We get some disgruntled listeners to our programs, but most people say they enjoy it," said Poley.
Poley is excited that 20 new Native American radio stations have been given construction permits and ten of those new stations are buying equipment. While NV1 doesn't help new stations with funding it points them in the right direction to agencies that can help.
"We're willing to help stations get off the ground and show them how we do things," he said.
Poley said NV1 will work to create more programming for the stations it serves. He said NV1 would not have been as successful if not for the support of Susan Braine and Nola Davis Moses. Braine is vice president of national programs for Koahnic Broadcasting, which owns NV1. Davis Moses serves as station relations representative with NV1.
Braine, in an email, praised the success that NV1 has had during the past five years. When NV1 started five years ago, there were five Native American station members; now, there are 44.
Praise also comes from those who have programs on NV1, station managers who use NV1 and the FCC.
Gregg McVicar, the radio personality who performs the programming for Undercurrents, said NV1 is a great way of serving native stations. He was with AIROS and came along when it became NV1. He thinks it keeps getting better because the number of station members keeps increasing. He noted that NV1 serves 81 stations and that will probably reach 100 by the end of the summer.
"We provide high quality programming every day of the year," said McVicar. "By having more stations we can do more because it spreads the costs around."
Undercurrents is an eclectic mix of music including rock, blues, folk, reggae, native and world music. Most of the songs are new, but classic rock is often part of the programming. He previously performed a show called Earth Songs which contained mostly native..
"We don't have a quota for playing any specific type of music. It's more about the feel of the music," said McVicar said.
McVicar provides 25-35 hours of programming each week and at least 25 of those hours are fresh. He doesn't do it alone as he has a half-time editor producer and a half- time office manager to help with the finances and his website, which can be found at undercurrentsradio.net.
"Having Native Voice 1 on satellite 24 hours a day makes it possible to reach all public radio stations," he said.
McVicar, a member of the Tlingit Tribe from Alaska, said his website gets feedback from listeners every day, but he doesn't get much feedback from Hopi or Navajo.
"I would love to get more feedback," he said. "Most of the feedback we get is people who like a certain song or say they like the variety of music we play."
McVicar said the one complaint they get the most is listeners wish radio stations played Undercurrents more during the day. Usually, Undercurrents is played during late night programming. Many stations rely on the local programming during the day. He said KAWC in Flagstaff plays Undercurrents all day.
"The stations who have played Undercurrents during the day have had a lot of success," said McVicar.
McVicar, who was recently appointed to the NV1 Advisory Board, said he looks forward to serving all the NV1 stations and feels this is a great opportunity to expand radio.
Dave Riek used to work at KNAU in Flagstaff and now works as station manager at KAWC in Yuma. He said he can't imagine not having the Undercurrents and Native American News programming that NV1 provides.
Geoffrey Blackwell, chief officer of Native Affairs and Policy at the FCC, said in an email that NV1 provides great value by bringing native voices and native broadcasting to the airwaves.
More like this story