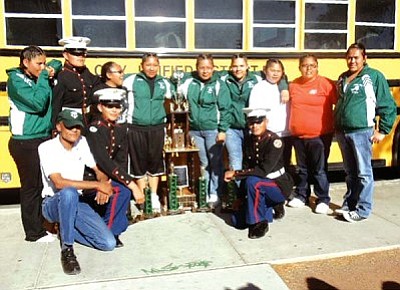 Originally Published: April 26, 2011 12:20 p.m.
PHOENIX, Ariz. - On April 16, a team of 11 Marine Corps Junior Reserve Officer Training Corps Cadets (MCJROTC) from Tuba City High School competed against 21 other teams in the Desert Classic JROTC Arizona State High School Drill Championship at Alhambra High School and won.
Fulfilling the expectation for an outstanding performance, the Tuba City Warriors' Drill Team refused to be denied recognition and brought home the Championship Sweepstakes trophy for the fifth time since 2003.
Standards of performance included spinning drill rifles weighing 8.69 pounds, marching with discipline, moving with accuracy and attention to detail, enduring 96-degree heat, and providing entertainment for spectators while sewing uncertainty in the minds of their competitors.
The team consisted of three male and eight female students under the command of Shelden Phillips, Armed Drill Team Commander; and Diana Atene, Unarmed Drill Team Commander. Less than 40 percent were experienced drill competitors.
Phillips, a sophomore, attributes the team's success to practice. "We practice all the time: mornings before classes, lunchtime, after school, and practice after practice." Phillips skips lunch, downing a bottle of vitamin water, so he can get that extra half-hour of practice in the middle of the day.
Their instructor, Sergeant Major Michael E. Johnson, affirms the importance of practice. "This is a team that practices in the rain, in the wind, during sand storms, in the snow and on holidays when school is not in session."
Johnson equally credits students' academic performance, commitment to each other, and desire to protect the Tuba City Warriors' legacy for the 2011 win.
Participant Wynona Woolsey, a senior, voices the Semper Fi ethos as it applies to high school students. "When someone is feeling down or is failing a class, there is always someone on the team they can relate to. We tell them to put down the rifle and come into the classroom to talk and study. This year only one member was unable to compete in the Desert Classic because of academic ineligibility."
A focus on team, rather than individual, excellence is what differentiates MCJROTC students from the general population. All wear digital camouflage uniforms throughout the school day each Wednesday. Occasions when students wear their dress blues afford pride. Woolsey says, when others see us in dress blues, they say, 'You must be important.'"
Drill team competitors are: Diana Atene, Micah Bahe, Sharine Bigman Krystal Bitsuie, Deion Crank, Rhoshandalynn Denetsosie, Joshua Nez, Shelden Phillips, Adrianna Tsinnie, Wynonna Woolsey, and Cheyenne Yazzie.
The MCJROTC's Rifle Team at Tuba City High School, instructed by Gunnery Sergeant Tim Shaner has brought state and national recognition in 2011.
In January, the Tuba City Marksmanship team competed at the Arizona State Junior Olympics, and won. They will be representing the State of Arizona at the National Junior Olympics in Camp Perry, Ohio at the end of June. The four shooters who will be representing Tuba City are Nicholas Seimy, Aaron Dale, Holyan Sandoval and one more shooter who has not been identified at this time.
Each year, the marksmanship team shoots to qualify for the JROTC National Championship. The Tuba City Warriors placed second regionally, and third (out of over 40 teams) at the Arizona State Championship. Although the team did not qualify this year for the national competition, two individual shooters did qualify.
Nicholas Seimy and Aaron Dale traveled to Anniston, Ala. and finished in the top 50 shooters in the country.
The purpose of the MCJROTC program is to instill a value of citizenship and service to the United States, personal responsibility, and a sense of accomplishment. This purpose is achieved by teaching courses about Leadership, Citizenship, Personal Growth and Responsibility, Career Exploration, Public Service and General Military Subjects.
Twice, the Tuba City MCJROTC program has received the Marine Corps Reserve Association (MCRA) Award for being the most outstanding MCJROTC unit within the region. Between 2004 and 2010 they were recipients of the Naval Honor School award six times for attaining the highest overall rating during the school year.
The valedictorian for the Tuba City High School graduating class in 2011 is Battalion Commander, Lauren Newland.