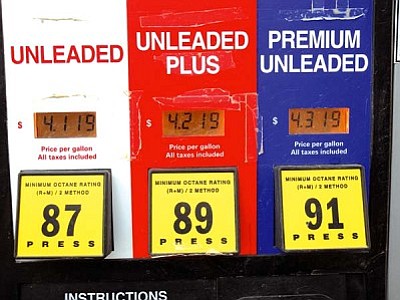 Originally Published: April 26, 2011 12:07 p.m.
A lot of Hopi and Navajo community members didn't think they'd see the spike in gas prices so soon after last year's run of high end gas products. But the instability of both Libya and Egypt in the current per barrel cost of crude oil, coupled with the cost of exporting oil to the United States, are quickly adding up to make buying gasoline an extremely expensive proposition.
According to investors, there are serious fears about commodities traders taking bets against both U.S. dollars and gold purchasing as well as "futures contracts," which are agreements to buy or sell oil at a specific date in the future and also sell it at a specific price in the future.
When the demand is high, especially going into the summer months, crude oil prices go up. Prices always rise when the demand is greater than the supply. Summer prices in Arizona are expected to reach at least $4.75 per gallon price and may hit $5 per gallon in remote areas such as the Navajo and Hopi reservations.
High gas prices seriously affect all residents who live and work on both Hopi and Navajo, since these areas are so remote. Families often utilize larger vehicles, including minivans and big trucks for livestock, farming and weekly runs for groceries and other errands.
For a family of five, even a fun recreational weekend off-reservation adds up quickly once you factor in meals and lodging.
Tommy Canyon, Kykotsmovi Village Store manager since 1984, stated when he first started managing the store, gas prices were under a dollar per gallon for unleaded. Back then, he added, diesel was even cheaper than unleaded so it wasn't as expensive to fill up your gas tank.
Canyon explained that there are several factors that go into gas pricing for reservation residents, starting with basic crude oil prices in foreign countries. The second factor is the people that make gasoline, who then sell to the jobbers, who then sell to retail stores like the Kykotsmovi Village Store.
Then there is the storage tank capacity.
While the storage tanks at Kykotsmovi can hold 10,000 gallons each, filling those tanks costs an average of $32,000 dollars per truckload. Each of these truckloads lasts only about one week, however, because so many people travel off reservation. So for any store to break even or make a profit, it must charge no less than what it paid for the gas to be delivered.
Canyon also said that along with freight costs to transport the gasoline, there are also local excise taxes that are charged. Excise taxes are what help to maintain roads, which adds to the price of fuel. This will only increase once June hits and tourist season officially starts.
As of press time, the cost of unleaded gas at the Kykotsmovi Village Store was $4.09 a gallon and diesel was $4.39 per gallon.
Michael Hunter, manager of the Hotevilla Co-op Store for two years, commented on what he thinks makes gas cost so much on Hopi. Hunter stated that the Hotevilla Co-op store has a smaller storage capacity than the Kykotsmovi store so they must order more frequently to fill up their storage tank, which means additional freight charges for each load of gasoline.
Hunter said that every day, he gets a printout for changes in the gas pricing for this area, and it very rarely goes down. Now that summer is coming, he agrees with Canyon that gas prices will reach the $5 mark.
Hunter added that gas stations in larger communities order by volume and that volume is big everyday, which helps gas prices stay lower and more competitive. However, in remote areas, such as the reservations, there are more independently-owned gas stations so they are ordering in much smaller quantities.
As of press time, gas prices at Hotevilla Co-op were $4.11 for unleaded and $4.31 for diesel.
Other Hopi gasoline prices were $3.96 at Keams Canyon Mustang for unleaded and an average of $3.73 and $3.79 per gallon for unleaded in Tuba City at four retail gas stations.
Canyon and Hunter offered some helpful tips to help stretch those gasoline dollars this coming summer: Fill your tank only in the cooler temperatures, like early morning or late evening, because gas expands in the summer heat and gives the impression you have a full tank when its really just expanded gas fumes and not actual fuel. Drive less by combining errands, and try to travel only short distances for essentials, like groceries or laundry.
They also suggested carpooling.
More like this story