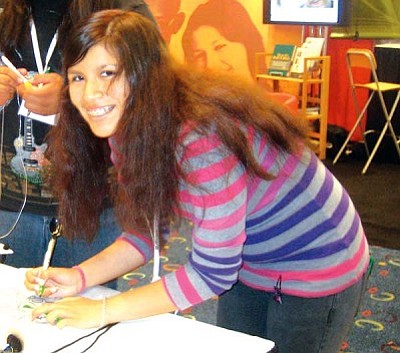 Originally Published: April 26, 2011 11:08 a.m.
ANAHEIM, Calif. - Mary Grace Lawrence Pewewardy, a junior at Hopi High School, won a national award at the Journalism Education Association Conference April 14-17 held at the Anaheim Marriott.
Hopi High School has won dozens of state awards for journalism and radio, but this is the school's first national award in journalism. There were more than 1,500 students in the competitions with slightly more than 500 winners.
Pewewardy, who plans to major in journalism, said winning the award was surprising.
"I didn't think I did good. It felt great to hear my name though," she said.
Pewewardy said winning the award makes her feel that she is a lot closer to achieving her dreams of being an author.
Like most students facing competition, she was nervous. There were anywhere from 10-50 students competing in each division. Students would walk into a room, get instructions from judges and compete for the national awards.
"There were so many kids, I thought I wouldn't do good, but my two best friends said they knew I'd do good, so I'm glad because they calmed me down," she said.
Pewewardy said she enjoyed a speech by Laura and Lisa Ling.
"It was amazing, but sad. Lisa talked about what it was like for her when Laura was captured in North Korea. Laura explained what it was like [to be] in captivity. Very sad," she said.
Laura was captured in North Korea when she was writing about the trafficking of North Korean women and was held captive for 140 days. The sisters are co-authors of a book about their experience.
Pewewardy also found a speech by Steve Lopez interesting. The movie "The Soloist" is based on Lopez's interviews with a homeless man who was a musician.
Lopez helped the homeless man get back to playing with orchestras by getting him cleaned up, putting him in contact with the musical professionals he previously worked with and by giving him moral support.
Lopez is the author of the book, "The Soloist: A Lost Dream, An Unlikely Friendship and the Redemptive Power of Music."
With a couple thousand students attending the conference, Pewewardy said it was weird because "we were all there because we love either writing, broadcasting or yearbook."
"It was nice to be around kids who shared the same interest as me," she said.
The conference included a multitude of breakout sessions on journalism, yearbook and radio. She said the conference was fun because students could come and go from the sessions as they pleased. She said the conference could have been improved with more fun classes.
"Some of the sessions were awesome and some were boring," she said.
She also enjoyed going to a fair as the students received free notepads, pens and were able to learn about colleges that offer journalism, radio or television broadcast programs.
Hopi High journalism student Halli Lomayaktewa and radio students Anthony Antone and Donna Brooks also attended the conference.
Lomayaktewa said the conference was educational for those interested in the media. She said that she enjoyed the speeches by Lopez and the Lings the most.
"The breakout sessions were educational but I think it should have lasted a little longer and been more exciting," she said.
When Lomayaktewa went into her competition, she said at first she was calm and relaxed, but when she had to take notes it was hard because they were talking too fast.
Lomayaktewa also enjoyed the speeches.
"The Ling sisters speech was interesting to learn about their past journalism trips and problems that they overcame," she said. "Lopez's speech was boring at first, but when he got to the part where he met the homeless guy it was the best story I've ever heard."
Lomayaktewa said that she and the other Hopi High students were happy and excited for Pewewardy when her name showed up as a winner on the huge movie screen.
"I would advise other students to attend this conference because it shows how important the details are on what you can and can't put in stories and editorials," she said. "It also shows how to improve your writing skills."
Anthony Antone, an advanced radio student at Hopi High, said it was fun to learn about the many ways of broadcasting, but he thought the student dance on Friday was the most fun.
Antone felt there were not enough sessions about radio broadcasting, but he found the breakout sessions to be fun and interesting.
He felt confident going into the competition because he already knows so much about writing for broadcasts. He said the speech by the Lings made him feel cautious about how broadcasting can be dangerous at some points. He said Lopez's speech was entertaining and made sense because there was a purpose to the story.
Antone noticed that the Hopi High students appeared to be the only Indians attending the conference, although he counted seven schools from Arizona.
Antone said he was proud that Pewewardy won an award. He said the conference showed him how many students are serious about journalism and broadcasting.
"They have a passion for it," he said.
Donna Brooks an advanced radio student at Hopi High, said the conference was interesting and she wishes they had gone to more sessions. She said the sessions were the best part, but she also wished that there were more sessions on radio broadcasting.
Brooks said her competition was hard because she rarely watches television and she had to interview a television model.
"It was hard to concentrate on her when I didn't know much about this famous person," she said.
Brooks said she was inspired by Lopez's speech and happy to meet him because when she saw the movie "The Soloist" she thought about how awesome it would be to have a major impact on someone's life, especially Nathan Anthony Ayers (the homeless man).
Brooks was proud that Pewewardy won a national award.
"I think it's an honor because students all over the nation came to the competition and there were only so many winners to receive an award. I'm glad that at least one of us received an award representing Hopi High School," she said.
Brooks said she advises students to attend this conference "because you never know who you can meet like my experience with Steve Lopez."
She said students attending JEA could get information that would change their interest in the media.
"It is also a great experience because you could become a national winner because you could be picked out of many students who attended from all across the U.S.," she said.
Brooks noted that the competitions give students chances to win $5,000 scholarships and National Journalist of the Year.
They also select six students, based on their work, to win $2,000.
"You can make anything happen for yourself. You've just got to try and put that much effort into your work," she said.
The students capped off their trip with a stop at Disneyland where chaperone Anita Poleahla was kissed by Mickey Mouse.