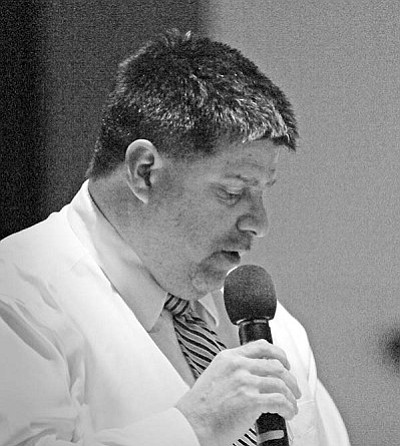 Originally Published: April 19, 2011 2:18 p.m.
WINSLOW, Ariz. - Interested parents were informed about a proposed new Winslow School District project. The project is a magnet school, which will focus on delivering education primarily through digital technology. The plan was presented to interested parents on April 13 in the Performing Arts Center at Winslow High School.
The plan was to start with two classrooms with third through sixth grades with about 25 students per classroom. The plan was proposed to the parents who then had ample time to ask questions about student selection and specific implementation details. Generally, the parents' response was favorable, with a number of them signing up their children on the spot.
The program consists of Computer and Project Based educational delivery. Computer based education consists of real-time response to children's problems. The teacher becomes a facilitator. Interaction between teacher and student is based on individualization and self-pacing and real-time data on each student for teacher evaluation.
The District will use existing software called A+. Each student will have a computer (laptop) and access to Apple iPads.
Project based education consists of using technology to engage the students with issues that are relevant to them. The main components of Project based education are selecting and defining a project, researching the project and finally, doing a presentation on the results of the project. After the student has mastered a couple projects with guidance he/she will then be expected to complete a project on their own.
A few of the project types are Tracking, Charting, Brochure Creation, Scientific Processes, Simulation, Power Points, Music and Math. Activities include essays, reports, video creation and field trips. The teacher becomes a "facilitator" in the interactive classroom.
Some new teacher skills will be required: data driven analysis is required, understand the technology for the lesson plans and be able to plan Project Based curriculum. The teacher will also be in constant contact with parents since student analysis is summarized and available for analysis on the following school day, each day.
Parents interested in having their child enrolled in the WSD Magnet School are encouraged to call the Winslow District Office.