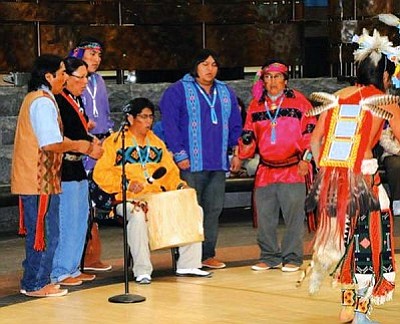 Originally Published: April 19, 2011 3:40 p.m.
WASHINGTON, D.C. - The Hopilavayi Unihòoyam Club - Hopi Language Club of Tuba City High School traveled to Washington, D.C. April 3-6 to perform the Butterfly Dance at the 2011 Spring Conference for the National Association for Federally Impacted Schools (NAFIS). While there, the group performed at the prestigious Smithsonian National Museum of the American Indian (NAMI).
A total of 11 student dancers, accompanied by five adult singers and parent chaperones and school administrators representing the communities of Tuba City and Moenkopi, performed during a breakfast and a luncheon sponsored by NAFIS. The main purpose of the trip was to showcase how Impact Aid benefits students in the Tuba City School District. NAFIS is a non-profit corporation of school districts from throughout the United States, organized primarily to educate Congress on the importance of federal Impact Aid funding. NAFIS represents children residing on Indian lands and other federal property.
Tuba City School District receives millions of dollars in Impact Aid, and the Hopilavayi Unihòoyam Club was in a position, with the approval of the school board and administration, to make good use of a portion of that funding to pay for the students' trip expenses.
Tsu'wisiwma (Arvis Myron), the Hopi Language teacher and club sponsor stated, "There can be no greater impact on students than to support activities that extend and enrich learning beyond the classroom. The performances at the NAFIS conference and at the museum were real learning situations that connect Hitsapki'am (traditions) and Yuki'am (arts) with Ayawa'am (underlying perspectives, beliefs)."
While touring the NMAI following their performance in the Potomac Atrium, students learned that many tribes have died out. The Hopi Tribe, however, is very much alive and strong through ceremonies and language. Hopi is separate and different from mainstream Western culture, and because of the difference, it contributes to the richness and diversity of America rather than not languishing in museum display cases.
Observing ceremonies and making and exchanging Hopi products helps keep Hopi alive, but more is required. Tsu'wisiwma urges parents and grandparents to start speaking to their children and grandchildren in Hopi at home. Hopi language patterns and truth cannot be adequately translated into English.
Dancer and Hopi language student, Kuktutwa, Adrian "A.J." Jensen has performed the Butterfly Dance and all of the traditional ceremonial dances in the kiva and plaza of Mùnqapi following his initiation. He found the experience of performing for Western society off the reservation affirming. "It made me proud to be Hopi," he said.
Fellow dancer and student, Posiwaynöm, Kelsey Rogers experienced her first time flying on an airplane. This was her first trip far from home, and she discovered that she has much to learn and adapt to in Western society. "People on the street were open and confident. Here on the reservation, people keep to themselves and are quiet and shy. I want to be myself - Hopi - yet, learn how to act and get along with other people," she said.
David Jensen, one of the parents, held rehearsals in his home for a month prior to the trip. A nationally known contemporary kachina doll carver, Jensen designed, constructed, and painted the magnificent headdresses for the girls and, with the help of the students, created all of the regalia worn by the performers.
The Hopilavayi Unihòoyam Club continues to fundraise for expenses such as food and incidentals not covered by the Tuba City School District and for future engagements. Jensen said, "Not all of our kids are fortunate to have money. One boy was going to back out of the trip because his mom has no money and he didn't want to burden her."
A performance of the Butterfly Dance and a raffle will be held at Moenkopi Legacy Inn on the evening of April 29. Included in the raffle are items donated by Jensen and other Hopi artists and sponsors including Moenkopi Legacy, Robert and Cis Hawk, Verrin Kewanvoyouma, Patrick Allender, Richard Herz, Derek Jensen, Eddie Calnimptewa, Upper Village of Mùnqapi, Edna Weinberg and Wendy Ferguson.