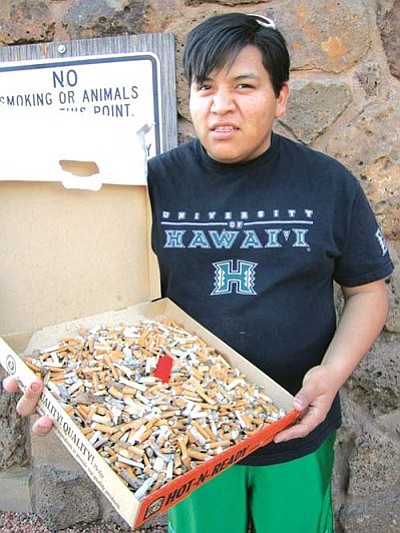 Originally Published: April 19, 2011 12:29 p.m.
FLAGSTAFF, Ariz. - Flagstaff Kick Butts Day event was very successful with youth showing up at Flagstaff City Hall to expose, inform, and fight back against commercial tobacco use.
In honor of Kick Butts Day, the teens from Coconino High School's Native Life Youth Coalition (NYLC) collected cigarette butts around Wheeler Park and held up signs with tobacco facts for traffic to read. Many of them enjoyed the feedback they received, especially as vehicles honked in response to their "Honk if you don't smoke!" sign. By the end of the event, over 200 cars had shown their support by honking.
Collecting cigarette butts was also a great learning experience for most of the youth as they found out they were gross and stinky as they watched as their gloves turned yellow from touching the cigarettes.
NLYC president Kyle Mann commented, "While we were picking up cigarette butts, it hit me how much smoking can affect the environment as well as small animals. The group will hopefully be out there again next month picking up more cigarette butts."
According to the Ocean Conservancy International Coastal Cleanup cigarette filters, cigar tips, and tobacco packaging accounted for 38 percent of worldwide debris.
For more information, call the Coconino County Public Health Services District Tobacco and Chronic Disease Prevention Program at (928) 679-7272.