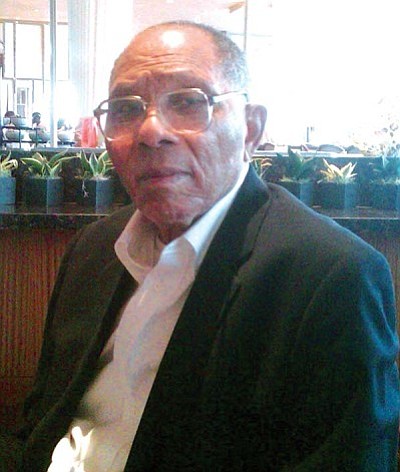 Originally Published: April 14, 2011 3:03 p.m.
Joseph "Joe" Daniels Jr., 84 formerly of Macomb, died in his St. Louis, Mo. residence on April 11. He was one of eight children and was born on November 19, 1926, in Macomb, Ill. to Joe Daniels Sr. and Myrtle Womack.
Joe volunteered for the United States Navy during World War II and served honorably in the South Pacific Theater. After the war he attended and graduated from Western Illinois University in 1953 with a Bachelor of Science degree.
On Oct. 13, 1947, Joe married Jesus "Jessie" Rios who preceded him in death and together they had eight children: Michael Francis Daniels, Anthony Daniels, Constancia Ginestra, Victor Burdette Daniels, Felisa Rios Daniels, Jose Joaquin Daniels, Timothy Douglas Daniels and Estella Maria Daniels, along with three grandchildren all who survive him.
Joe had a keen interest in the plight of the American Indian and took his first teaching job on the Hopi Indian Reservation in Arizona. He worked in transportation, construction and taught juveniles at the Hanna City Boy's State School near Peoria. He spent many years counseling students at the Office of Academic Services at Western Illinois University and at the end of his career taught Black history at the university. Joe is a charter member of the local chapter of the National Association for the Advancement of Colored People in McDonough County and a member of the American Legion.
Joe is the grandson and great grandson of ex-slaves who came to McDonough County soon after the Emancipation Proclamation. Like his forefathers, Joe always dreamed of a better life for his family and encouraged his children to achieve their greatest potential in life. American history was his passion and he would engage in a discussion about our country's past with anyone who would listen.
Joe will be remembered as someone dedicated to the struggle for human rights and with an honest desire to help young people improve their quality of life through education. He will be missed.
He was preceded in death by his parents and siblings, Donald Daniels, Leroy Daniels, Hazel Robinson, Geraldine Daniels and Leslie Daniels. He is survived by his brother Franklin Daniels and sister Barbara Wilson.
Graveside services will be held at 2:30 p.m. on Monday April 18 at Oakwood Cemetery with full military rites conducted by the Macomb American Legion and VFW. Fred Daniels will officiate. Visitation will be on Monday from 10 a.m. to 2 p.m. at the Dodsworth-Piper-Wallen Funeral Home.
Memorial contributions may be made to the American Heart Association.