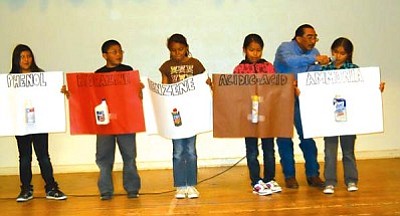 Originally Published: April 13, 2011 10:19 a.m.
HOTEVILLA, Ariz. - Tobacco use, including cigarette/cigar smoking and chewing tobacco use, remains the leading preventable cause of death in the United States.
Each year cigarette smoking accounts for approximately one in five deaths or about 443,000 people, including Native reservation areas, according to National Tobacco Health statistics.
Every day, approximately 3,600 young people between the ages of 12 and 17 initiate cigarette smoking. In 2009, 19 percent of all high school aged students reported cigarette use annually.
Taking these statistics seriously, the staff of Hotevilla-Bacavi Community School partnered with the Hopi Police Department and had Officer Shirley Dawahoya and Tobacco Prevention Specialist Eldon Kalemsa conduct a presentation to students.
Together, Kalemsa and the students shared their tobacco research with community, parents and officials of the Hopi Tribe, including Chairman Leroy Shingoitewa and Vice Chairman Herman Honanie.
Miss Indian Arizona 2011 Sweetie Cody and Miss Hopi First Attendent Jenna Lamson also gave speeches to the students.
Kalemsa worked with students on stage in a special presentation that highlighted various chemicals that go into a commercially produced cigarettes and cigars.
Many were astonished to find out what kinds of corrosive chemicals are contained in cigarettes, including ammonia, benzene, hydrozene, phenol and even arsenic.
Students held up poster boards that had chemical names on it and were also given the task of finding common household or garage products in their own homes that contained these chemicals.
According to Kalemsa, inside every single cigarette or cigar is a total of 69 cancer causing agents and a total of five separate hard chemicals.
Addressing respiratory concerns with smoking or with using chewing tobacco, HBCS Substance Abuse Prevention Counselor Debra Baker's presentation focused on the decay, corrosion and unsightly facial deformities that can occur once abusive cigarette smoking takes over.
A number of graphic photos prompted a lot of comments from the audience and students who saw missing yellowed or blackened teeth or no teeth at all due to constant cigarette, cigar or chewing tobacco use as well as more serious facial deformities.
Lining the hallways were long sheets of colored butcher paper that had huge paper cigarettes glued on them with prevention slogans, like "Smoking can ruin your lungs," "Kick Butts in our Community" and "Don't be a Dope, Don't Smoke."
Living and working in a Native community, Baker and Kalemsa made sure to include the Native traditional approach on how Native people respect the tobacco plant used in Hopi ceremonies. It was explained that the type of tobacco used in Hopi ceremonies is a very pure, natural substance with no chemicals, and that only men are allowed to smoke and handle the substance in ceremonial activities.
Kalemsa, a member of the Hopi Tribe, is a full-time Tobacco Prevention Specialist and can be reached for public presentations and health information at
(928) 734-3000.
Baker, a full-time HBCS staff member, works with students in both drug and alcohol prevention and can be reached at (928) 734-2462.