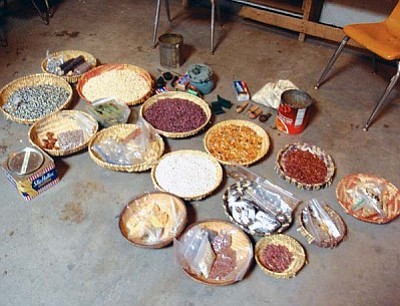 Originally Published: April 12, 2011 11:01 a.m.
FIRST MESA, Ariz. - Despite a blast of winter weather that brought snow to the Hopi Reservation, the annual Historic Hopi Seed Run at Tewa Village continued as planned. It was heavily attended by runners, Hopi farmers, families and friends who want to continue the tradition of honoring the upcoming planting season by exchanging ancient Hopi crop seeds and sharing a meal featuring Hopi-grown organic foods.
The three First Mesa villages - Tewa, Sichomovi and Walpi - rotate this event each year, and this year was Tewa Village's turn.
Each year for the past 21 years, a special run and blessing of seeds by men in the village showcases Hopi generosity with the sharing of bean, corn, squash, gourd, chili, tomato, pumpkin and sunflower seeds as well as tobacco plants.
Rainy Naha, a well-known Hopi potter, organizes each year's event along with her husband Rod Pongyesva who farms and participates in village activities. With the help of village members, a variety of food and drink such as Hopi wild spinach, noquivi, blue corn "marbles," somiviki, Hopi hohoysi tea, baked and fried Hopi squash, fresh tortillas and fresh salsa were prepared and shared following the morning run.
Usually the seeds are placed in baskets in the village plaza for this blessing, but due to the inclement weather, the seeds were smoked in one of the Tewa kivas to help keep them dry.
Naha said, "This annual seed run is to remember that we are truly the caretakers of our own Hopi and Tewa traditional land base and it's critically important to honor our reservation area resources. Like our ancient seeds that we honor today, we also honor our culture, our family, our cultural and clan ties."
She continued, "When I was small, my father and I used to run around the entire cornfield before we would plant our corn crop. It was a humble way to remember that our seeds had their own journey coming up through the soil and if we nurtured them the right way, our mother the Earth would, with sunshine and rain, give us ... a beautiful rich harvest to feast on and crops to store and eat during the winter."
The men in the village do their part, by smoking Hopi tobacco over the seeds before they are split up and shared by the attending members.
Younger boys and girls are reminded by their elders that day to remember to plant and eat these crops that the Hopi were given when they first came to this place to live and to share with their family and clan members these foods that have sustained Hopis for thousands of years.
Even a small household pet participated this year. A chihuahua owned by one of the runners joined the group in running from the village of Tewa between the two first mesa mounds. To honor the dog for participating in the run in the snow, Naha's daughter, Amber, "washed" the dog's hair upon its return to the village.
For more information on participating in next year's event, or to donate seeds to trade, contact Rainy Naha or Rod Pongyesva at (928) 738-5355 or (928) 401-0331.