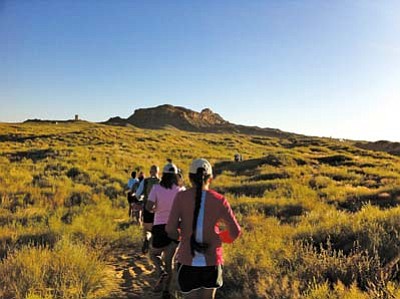 Originally Published: September 28, 2010 2:46 p.m.
FIRST MESA, Ariz. - On Sept. 11, over 350 runners, their families and supporters joined together to run in a special relay through a historic First Mesa trail in honor of water.
Paatuwa'qatsi, which means, "Water is Life," took on an elevated status this year with all the recent disputes over the Snowbowl artificial snowmaking venture in Flagstaff.
Bill "Bucky" Preston, founder and organizer of the Paatuwa'qatsi Run, along with Andy Bessler of the Sierra Club in Flagstaff, hosted a pre-run spaghetti dinner the night before the run. Two movies featuring long distance running for environmental issues were also shown.
Preston, a longtime long distance runner, spent the past month grooming the historic trail along with his eldest son Odie and other community members of the First Mesa area. The trail had never been used by non-Natives before.
Prior to the race, Preston reminded the runners that this event was "a remembrance run" rather than a race; that it was an event formed to keep ancient trails alive. Hopis believe that trails such as this, are really "veins" to the village. Using these ancient trails keeps them open and keeps the tradition alive, thus keeping the village alive, which brings the cloud for rain.
A special invitation went out to the non-Native running public in the hopes that they could share and become versed in what water and its cultural, spiritual, life-sustaining properties bring to everyone in the world. All participants were treated to a special experience in running along this ancient trail from the bottom of the back of First Mesa through the village and back down.
Afterwards, each runner was blessed with appreciation with Hopi spring water by the women of First Mesa for completing their prayerful, physical effort on behalf of all nations and for water.
Cynthia Pardo, a volunteer for Sierra Club in Flagstaff and a non-Native participant in this year's run, commented, "I was extremely honored to take part in this very unique and culturally significant event. I was also proud to see so many non-native supporters from the Flagstaff community turn out ... for a cause like this that gives such high reverence to water."
Runners participated in several events, including the ultra-marathon, three-person and six-person relay, and the four-mile fun run.
Every runner was given a commemorative
T-shirt and feasted with their families and supporters on a genuine Hopi traditional meal at the First Mesa community center after the event.
Preston summed up the event by saying, "I do this not for myself, I do it for the people. I get very emotional when I see people from such faraway places who can understand the spirituality and significance of this run because how sacred water is. It makes me feel a joy in my heart that there are other people who are not Hopi, but who understand what water means, what importance it has in our lives. I just really appreciate all the support and the sincere participation. I hope this event is even bigger next year."
For more information about next year's run and to participate, visit www.waterisliferun.org or www.sierraclub.org/coal.