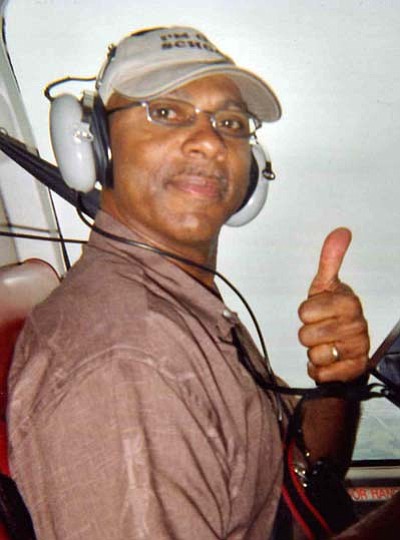 Originally Published: September 21, 2010 5:20 p.m.
SFC (Ret.) Kevin Lee Nance, Senior Army Instructor for the Hopi High JROTC Program passed away over the weekend. He was a great supporter of veterans events and a great friend to all he came to know. He was a superb role model for all our young high school ROTC cadets at Hopi High. There will be a memorial service at 6 p.m. on Wednesday, Sept. 22 at Hopi High School. Nance will be buried in Phoenix following funeral services there on Monday, Sept. 27.
Kevin Lee Nance was born to Rufus and Katie Lee Nance on December 6, 1953, their sixth child of eight. Even at a young age he had a talent for singing and a warm and gracious heart. His early years were spent in his birthplace of Chester, Pennsylvania, where he attended the local schools, and participated in music and athletics. After graduating from Chester High School in 1971, Kevin moved to Arizona, where he worked as the Associate Physical Director at the YMCA in downtown Phoenix. He later earned a Bachelor of Arts from Excelsior College in New York.
In 1983 Kevin accepted Jesus Christ as his Lord and Savior and joined Tanner Chapel AME Church. That same year he joined in holy matrimony with his loving wife Patricia Lister, who describes him as exceptionally romantic throughout their 27 years. From this union came Karlton Lavelle and Kalei Ana, the apples of his eye. As a father, he was supportive and encouraging with unconditional love.
Kevin felt a call to duty and enlisted in the Army National Guard where he gave dedicated service for 20 years. He has been awarded the Army Meritorious Volunteer Service Award, the H.B. Daniels Community Service Award, the National Defense Medal and the US Army Good Conduct Medal. For the past seven years, Kevin has served as the Army Instructor at Hopi Junior Senior High School in Keams Canyon, AZ. He used his expertise to not only found the JROTC program, but also established the annual Phoenix Suns and JROTC night, and trained the school's first Color Guard which has posted the colors in both Phoenix and Hawaii. Kevin also flourished in additional roles at the school, including working as instructor for the Raiders Physical Fitness Teams, and coach for the school's first swimming and rifle teams.
In stride with his military service, Kevin was equally devoted to serving his surrounding community. He generously gave of his time and talents to the Boys Scouts of America through numerous positions, and founded Troop #208 at Tanner Chapel. Kevin was an active member of several organizations, including Tanner's Male Chorus and Jubilee Choir, Alpha Phi Alpha Fraternity, 100 Black Men of America, Inc., and he even recorded with the Sun Valley Revue, a local gospel ensemble. He embraced being a Valley Big Brother, with his "little brother" becoming an adopted member of the family. Kevin also holds fond memories of coaching on the Arizona Cheetahs Track Club and other teams while supporting his children's athletic endeavors.
Kevin was predeceased by his sister Ophelia Nance. He is survived by his devoted and loving wife of 27 years, Patricia; his son, Karlton Lavelle; his daughter, Kalei Ana; his parents, Mr. and Mrs. Rufus Nance; his mother-in-law, Anna Lee Lister; and Valley "Little Brother" Danny Augustin. His surviving sisters include Katie D. Nance McKenzie, Lucretia Nance Jones, Marian Nance, and Helen Marie Myers. His surviving brothers include Robert (Tammy) and Rufus Curtis (Sharon). His surviving nieces and nephews include Sherri, Christopher, Leilani, Jackie, Paula, Robert Devine, Trinity, Tanner, Destiny, Sonya, Curtis Kemal, Anush, Steven, J. Ross, A.J., Alexa, Amari, and one goddaughter, Simone. He leaves behind a host of cousins, in-laws, church family and friends to cherish his legacy for years to come.