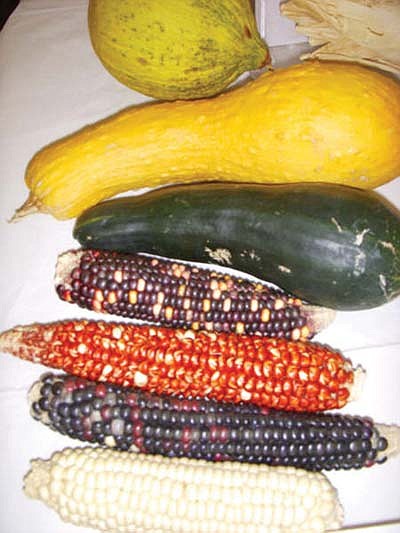 Originally Published: September 8, 2010 2:42 p.m.
KYKOTSMOVI, Ariz. - On Sept. 16, the Natwani Coalition will host the 2010 Hopi Agricultural and Food Symposium (HAFS) from 8:30 a.m. to 5:15 p.m. at the Hopi Veterans Memorial Center located east of Kykoktsmovi. This year marks the fourth such symposium/forum for the Hopi community.
Coming together will be community members, farmers, gardeners, teachers, health care workers, tribal employees, and persons interested in preserving, reviving, and learning about the agricultural traditions of Hopi and the importance of Hopi seeds. The day-long event is free with lunch included and registration will be done on site.
Leland Dennis, organizer of the symposium and Program Coordinator of Natwani Coalition pointed out that this year's symposium theme - Hopi Seeds: Our Ancestors, Our Children, Our Future - was chosen because much discussion and concern had been voiced among Hopi Foundation and Coalition staff about the future of Hopi heirloom seeds and the threats to future Hopi seeds. This community event is one way the Coalition works toward preserving the agricultural traditions of the Hopi and Tewa people and it is in very much in keeping with their mission to develop innovative strategies in order to address diet related health issues, preserve Hopi farming traditions and restore the local food system.
Eight breakout areas will be set-up and attendees will have the opportunity to not only hear presentations by local community members and knowledgeable professionals in the field, but will have the opportunity to question and address the following topics of the symposium:
Hopi Value of Seeds
Presentated by Beatrice Norton, Administrator of Hopi Health Services at Hopi Health Care Center from the Village of Oraibi and Jerry Honawa, Hopi community member from Hotevilla.
Hopi Food Assessment
Presented by local community members trained on the Hopi Food Study.
Seed Preservation
Presented by Leigh Kuwanwisiwma, Director of the Hopi Cultural Preservation Office from the Village of Bacavi; and Miguel Santistevan, high school science teacher, permaculturist and Ph.D. Candidate in Biology at the University of New Mexico from Taos, N.M.
Seed Saving
Presented by Amy Taylor, seed collector and community member from the Village of Soongopovi, and Marlene Sekaquaptewa, seed collector from the Village of Bacavi.
The day-long program will begin with a plenary session followed by the Morning Session I presentation from 10:15 to 11:30 a.m. followed by lunch (A Taste of Hopi Traditional Foods) from 11:45 a.m. to 1 p.m. The luncheon will be prepared by various community members who support this event with their delicious food.
Following lunch will be the Afternoon Session II from 1-2:15 p.m. and Afternoon Session III from 2:30-3:45 p.m., ending with a community discussion from 4-5:15 p.m.
Other highlights include information booths and drawings for traditional Hopi farming prizes. During the week of Sept. 13-17, look for the Hopi Film Festival and a Hopi Orchard Planting Workshop. Details will be announced at a future date.
The 2010 HAFS was conducted by the support and efforts of the Christensen Fund, the Hopi Tribe Cultural Preservation Office, the Special Diabetes Wellness Program, Hopi Foundation, USDA Office of Advocacy and Outreach, individual donations, and volunteers.
For more information or to volunteer, contact Leland Dennis at (928) 734-2390 or e-mail natwani_coalition@hopifoundation.org.