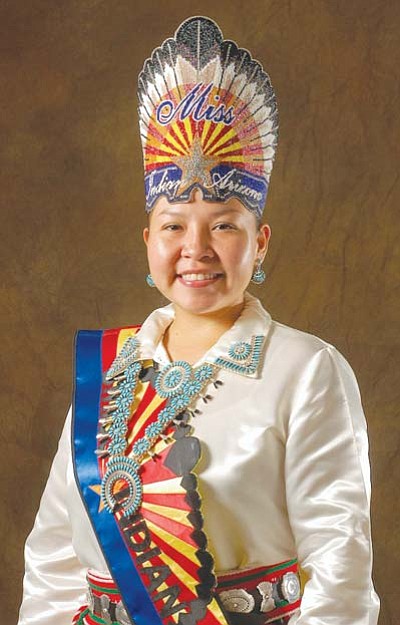 Originally Published: October 19, 2010 12:55 p.m.
CHANDLER, Ariz. - Sweetie Cody of Dilkon was crowned Miss Indian Arizona 2010-2011 during ceremonies held in Chandler. Cody was one of six young ladies vying for the title during the 49th Annual Miss Indian Arizona Scholarship Program, which was held Oct. 9. This year's theme was "Celebrating Indian Women in an Changing World."
Cody is the 22-year-old daughter of Lynn Shirley and James Cody, and a 2006 graduate of Winslow High School. She currently attends Coconino Community College and Northern Arizona University. She intends to transfer to Arizona State University to complete a degree in social work, and continue on to graduate school in San Francisco, Calif. During her reign, Cody says she will "encourage our youth to pursue their education, to have big goals for life, and to never forget their culture and teachings of the Native origin."
Jessica Ruiz, 18, from the Salt River Pima-Maricopa Indian Community was selected as First Attendant. She currently attends Scottsdale Community College with intentions of transferring to the University of Montana to pursue a degree in nursing.
Kelly Rose Sehongva, 18, from the San Carlos Apache Tribe, was selected as Second Attendant.
She is a 2010 graduate of San Carlos High School and currently attends Eastern Arizona College. She plans to complete her studies with a degree in nursing from the University of Arizona.
Participants in this year's program represented six of Arizona's 22 Indian tribes. In addition to Cody, Ruiz and Sehongva, this year's participants included Kandace DeClay (White Mountain Apache), Kristen Dosela (Gila River Indian Community), Kelly Rose Sehongva, and Nolene Watahomigie (Hualapai).
The Miss Indian Arizona Association is a non-profit organization under the sponsorship of the Inter-Tribal Council of Arizona (ITCA). Association members work throughout the year to raise funds to produce the scholarship program, which provides scholarships to young American Indian women, allowing them to pursue their educational goals.
For more information about the Scholarship Program, volunteering with, or donations to the Miss Indian Arizona Association, visit www.missindianarizona.com.
More like this story