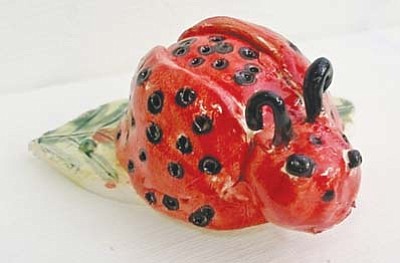 Originally Published: October 12, 2010 12:41 p.m.
FLAGSTAFF, Ariz. - DISCOVERY 2010 - The Exhibit is a celebration of the creative and inquisitive young spirits who attended the 2010 Discovery summer camps and the landscapes they explored in Discovery 2010 classes. This Museum of Northern Arizona exhibit features artwork created by this summer's campers and photographs highlighting Discovery experiences throughout the years. The exhibit is open now and will run through Nov. 28.
"It's important for our kids to see their accomplishments displayed and to be proud of the work they do," says Education Specialist Caitlin Evans. "MNA's Discovery Program values their creativity and their views of the world. We encourage kids to explore their environments and teach them about contributing to their community. I hope that our young campers learn that they can make their voices heard."
Since its birth in 1976, Discovery has created meaningful learning experiences for thousands of Flagstaff's youth. Campers have grown up and returned as staff members, however, Discovery still provides a hands-on learning experience where students are excited to investigate their surroundings. Each summer hundreds of campers, ages 4 through 18, have discovered the natural and cultural features of this unique Colorado Plateau - a place of high deserts, majestic mountains, imposing mesas, and stunning canyonlands.
This year's Discovery camps explored a wide array of arts and sciences. Students in Creepy Crawly Clay spent two weeks exploring local plants and bugs and learning traditional clay forming techniques. At the end of the two weeks, the budding ceramic artists went home with clay ladybugs, caterpillars, butterflies and an appreciation for clay and northern Arizona insects. Another class, Aqua Detectives, introduced campers to the fascinating aquatic environments of lakes, rivers, and creeks. Young aquatic biologists gained hands-on experience during several field trips, including a visit to Fossil Creek. Other 2010 classes explored recycled art, geology, painting, photography, gardening, archaeology, dance, dinosaurs, and wildlife ecology.
More information about the Discovery Program and the Museum of Northern Arizona can be found at www.musnaz.org, on Facebook, on Twitter, or by calling (928) 774-5213.