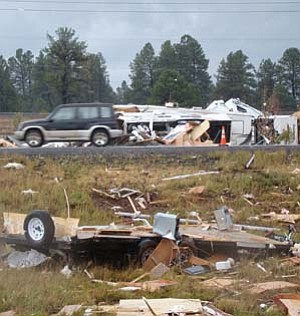 Originally Published: October 6, 2010 10:44 a.m.
UPDATE: The National Weather Service has issued a tornado warning for Mountainaire, Kachina Village, Flagstaff, Cosnino, Doney Park, Hutcheson Acres and Timberline until 5 p.m. today. The latest report indicated the storm was located between Sedona and Flagstaff, moving toward Flagstaff.
BELLEMONT, Ariz - The Coconino County Sheriff's Office received notification at 5:24 a.m. today that a series of tornadoes touched down in the Bellemont area, approximately 15 miles west of Flagstaff. Emergency officials are currently on the scene assessing the damages. At this time, there are no reports of fatalities or major injuries, and no missing persons have been reported.
Multiple homes were damaged, with a report of approximately 10-15 homes in Bellemont that are uninhabitable. Approximately 30 people have been relocated temporarily and Red Cross is in the process of setting up an emergency reception center for displaced persons at Flagstaff Middle School, N. Bonito St. in Flagstaff. The shelter should be operational by noon today.
The Camping World RV Park in Bellemont reported that 30 RVs have blown over and the debris blew onto Interstate 40, causing a traffic slowdown. Several semis and passenger vehicles were blown off of I-40 and multiple Burlington Northern Santa Fe train cars were derailed as a result of the force of the tornado.
Department of Public Safety and Arizona Department of Transportation are monitoring weather and highway conditions. The public should expect temporary closures throughout the day.
A tornado warning is in effect until 5 p.m. with the possibility of multiple tornadoes expected in the western portions of Coconino County, including Munds Park, Mountainaire, Kachina Village and Flagstaff. Citizens are encouraged to monitor their weather radios and local radio stations.
A citizen hotline has been activated for the public to obtain information and updates about the emergency. The number is 1-888-679-8393.
An emergency operations center has been set up at the Sheriff's Office in Flagstaff.
Additionally, ADOT had closed US 180 North of Flagstaff while crews worked to clear trees in the roadway. The trees were blown into the road by severe weather earlier this morning. The road has now been reopened in both directions.
A tornado touched down in the Baderville area this morning, with no reports of structural damage or injuries. A tree fell near a campsite with four people, who are currently being escorted out of the area by Sheriff's Office personnel.