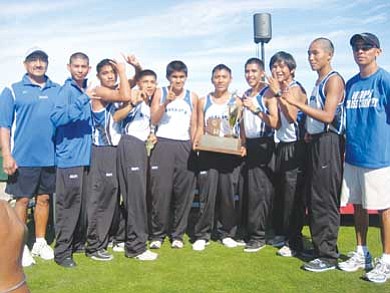 Originally Published: November 15, 2010 3:45 p.m.
PHOENIX, Ariz. - On Nov. 6, the Hopi High School's boys cross country team won a national record 21st consecutive state championship.
Hopi High beat second-place Many Farms by 53 points, winning the title with 58 points, Many Farms grabbed second with 111, Pinon snagged third with 136, Pusch Ridge finished fourth with 142 and Arizona Lutheran placed fifth with 163 in the 16 team race.
Hopi High's Justin "Vava J" Secakuku was the individual state champion crossing the line in 16:12:54. The rest of the Bruin team in the 126-runner race included: Mccray Huma, fourth; Kelsey Jones, ninth; Rex Yellow, 19th; Marquis Koiyaquaptewa, 25th; Kyle Yoyokie, 28th; and Darnell Ben, 38th.
Hopi High Coach Rick Baker said winning state continues to be a thrill and that Secakuku's individual state title was the icing on the cake. He noted that the Bruins hadn't won the individual title since Devan Lomayaoma in 2001.
"JC deserves it because he worked hard all four years to win the state title," Baker said.
Baker said he was surprised that Hopi won by such a wide margin, but added that Secakuku, Huma and Yellow stepped up when they needed to do so.
"It was a good team effort," he said.
Baker noted that Secakuku will be the only runner from this year's team who will be lost to graduation. He pointed out that this year's runners who ran at state were strong academically. He said Koiyaquaptewa and Ben overcame injuries this season in order to help the team.
He said the Bruins want to spend the next week enjoying the state title before thinking about next year. However, he said Many Farms and Northland Prep will return their top five runners next year. So, Hopi High will continue to run this summer to prepare for next year.
Secakuku said winning the state title and the individual state title were both awesome.
"I feel like I'm on the top of the world," he said. "I wouldn't give this up for the world. My teammates did their job."
Secakuku, a straight A student, said he ran in surges and never gave up.
"I kept reflecting on myself to go the limit," he said. "I ran with heart."
Secakuku said this year was different because the Bruin runners were younger, but he emphasized that Hopi ran a good race. He liked the course because the rolling hills kept everybody moving and by running in the morning it wasn't too hot.
"The key to winning this race was closing the gap between our second and third man," he said.
Secakuku said the outlook for next season is good because he expects the younger runners to step up.
He also runs track and plays basketball. He is active in National Honor Society and the senior class.
Secakuku will run for Paradise Valley Community College next year, but he's not sure what he will major in. He is the son of Charles Secakuku and Andrea Joshevama.
Huma, a junior, said he felt good about winning the state championship because the team worked hard. He said working hard was the key to winning. He added that the state race was competitive for each runner because they each tried their best.
He said the outlook for next season is good as the runners look forward to staying ahead of other schools.
Jones, a junior, said it felt good and exciting to win the state championship.
"This was a whole lot different because there was a lot more pressure on the varsity team then on the JV," he said. "But Hopi ran a really good race."
Jones said he was able to run a good race because he felt relaxed.
"The race was somewhat competitive. Teams wanted to beat us, but it turns out they were no competition at the end of the race," he said.
Jones said the key to winning was beating the other runners who were ahead of them and keeping in contact with teammates. He plans to prepare for next season by continuing to run and by playing other sports to stay fit.
"I think that we're going to have an excellent and fun season next year," he said.
Jones also runs track and plays basketball. After he graduates, he plans to join the Navy and then go to college. He is the son of Alban Jones and Elouise Couchyumptewa.
Yellow, a sophomore, said it was an honor to win a title with Secakuku.
"Wow. Twenty-one straight. Justin is a good role model and friend," he said. "We ran well, but we could have done way better."
Yellow said the course was fun because there were lots of hills. He also liked the cool morning weather. He said the race was competitive because there were always runners around him.
"The key to winning was training hard and determination to win because Many Farms had a strong team," he said.
Yellow said he will work hard during the off season so he can move up and improve his time. He also plays baseball and basketball.
Koiyaquaptewa, a sophomore, said it feels good to be a state champ, but this year wasn't as competitive as last year. He said the Hopi runners ran well.
He thought the course they ran was one of the best and he also felt the weather was nice. He added that the key to winning was breaking up Many Farms. He said he will prepare for next season by running track and participating in the summer running programs.
Koiyaquaptewa said the Bruins should be strong next year with five returners.
Yoyokie, a junior, said he felt excited about winning state. He emphasized that he ran faster last year, but that Hopi High ran a good race this year. He liked the course and felt the race was competitive.
Yoyokie said the key to winning was staying in front of the Many Farms runners.
"I'm going to run during the off-season and the outlook for next year is good. We should win another title," he said.
Deion Begay led Many Farms with 13th place finish. The other runners for the Lobos were: Daniel Nelson, 15th; Allssondro Uentillie, 20th; Ty Begay, 31st; Cedric Ingram, 32nd; Nolan Begaye, 40th; and Ashton Begay, 64th.
Winston Tsosie paced third place Pinon with his second place finish. The other runners for the Eagles were: Leandrew Dailey, 14th; Cody Manybeads, 29th; Kyle James, 30th; Olin Begay, 61st; Nelson Chee, 74th; and Cody Shone, 105th.