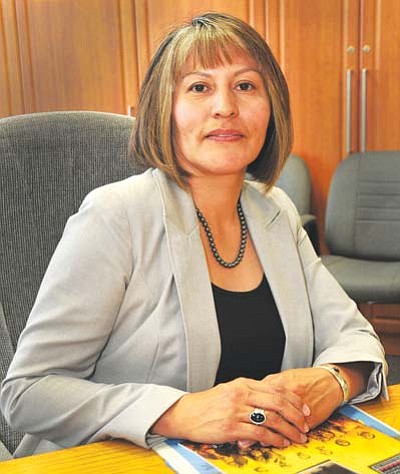 Originally Published: November 10, 2010 12:26 p.m.
TSAILE, Ariz. - Marie R. Etsitty was appointed Interim President of Diné College by the Diné College Board of Regents on Oct. 30.
"I have been given an enormous task to lead the College forward with the basic foundation of K'e. I very happy about the appointment and the many opportunities I will have working with my colleagues and students on another level serving as a top administrator for this great Navajo higher education institution. I also appreciate the many supports that will make my job easier in the months to come. I am looking forward to the task," Etsitty said.
Etsitty is the daughter of Nonabah and Kee Etsitty Sr. of Rough Rock. Her maternal clan is Tsi-naajinii, her paternal clan is Áshįįhį, her maternal grandfather's clan is Táchii'nii, and her paternal grandfather's clan is Tódích'iinii.
Etsitty has served as Director of Institutional Research and Title III at Diné College since January 2006.