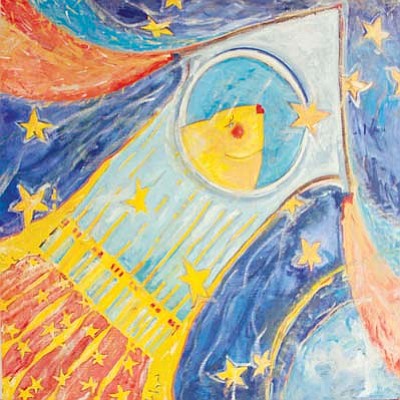 Originally Published: November 10, 2010 12:34 p.m.
FLAGSTAFF, Ariz. - Jake Brookins-Dreams: Realizations: Contemplations: Fantasies is on exhibit now until March at the Museum of Northern Arizona. This is a retrospective exhibit where exploration and fun are common qualities found throughout an eclectic body of work in ceramics, metal, and paint.
Brookins is interested in human relationships, the meaning of community, and the notion of communities over large spans of time, mixed with influences from archaeology and geology. A large installation work titled "Ancestors" is made of hundreds of ceramic bones, with the feeling of an archaeological find. Many of his ceramics are inspired by ancient Middle Eastern vessels, suggesting deep time, cultural flux, and a mysterious past. In this exhibit, the artist reveals himself as a fully engaged and vibrant member of the world community.
From an early age Brookins was fascinated by rocks and minerals, and objects left behind by earlier people. He earned two Master of Fine Arts degrees in sculpture and design and came to Flagstaff in 1969 to join Northern Arizona University's Art Department. He taught art and design courses and ran the student art gallery and workshop programs.
In 1977 he established the Museum of Northern Arizona's Art Institute for painting, sculpture, and metal working. His rich educational programs included artists-in-residence, summer symposiums, and workshops. Following that, he served in the Peace Corps and later on, he learned traditional Maori building techniques on Tiri Tiri Island off the East Coast of New Zealand.
Brookins was also one of the forces behind the creation of the Coconino Center for the Arts in Flagstaff.
MNA Director Robert Breunig stated, "Jake Brookins' ceramic vessels and forged metalwork are synthesized from a variety of sources and cultural traditions, reflecting a lifetime of interests and travels. He was strongly influenced by Japanese and Korean ceramic traditions from his studies there with traditional potters. His larger vessels are inspired by objects found in ancient Mesopotamian archaeological sites. Still, as a longtime resident of the Flagstaff area, you can see influence of the Colorado Plateau, and its environment and history in his work."
MNA Curator of Fine Arts Alan Petersen added, "Brookins' ceramic work is closely related to the abstract sculptural style of ceramics pioneered by Peter Voulkos and Jim Leedy. His metalwork ranges from ancient and mysterious zoomorphic forms to works that are drawn from the modernist vocabulary of Abstract Expressionism. In contrast, his paintings are whimsical metaphors for human emotions and states of consciousness."
Brookins was an inspirational leader in the Flagstaff arts community for over thirty years until he contracted ALS or Lou Gehrig's disease. This exhibit celebrates his life of creativity and his commitment to the Flagstaff arts community. He was a remarkably inventive and prolific artist, as he explored the human psyche through his art. The exhibit runs through March 27.
For more information, call (928) 774-5213 or visit www.musnaz.org. You can also find MNA on Facebook and Twitter.