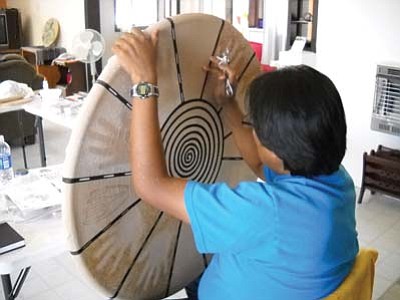 Originally Published: May 18, 2010 7 p.m.
HOTEVILLA, Ariz. - Hopitutuqaiki summer art classes will start in about a week and there is still time to sign up for classes in the areas of both contemporary and traditional Hopi art. People as young as three years old to over 60 have previously signed up for classes.
This special arts school, directed by Dr. Robert Rhodes of Hotevilla, is such a success that plans for making it a year-round arts magnet school are being discussed this year by the governing board and its chief facilitator.
"This will be our sixth summer of the Summer Arts Program and each year has been better than the one before," Rhodes stated. "We have learned a lot about techniques that work well for Hopi students and feel that we are now ready to go to the next step of developing an Arts Magnet School for Hopi as an alternative to the schools that are now present on the reservation."
Rhodes added that there is ample evidence that shows Hopi students are more comfortable and more proficient in field-dependant and artistic ways of learning.
"The annual reports from our Summer Arts Program show the success of using that process primarily in the arts, but our classes and previous research also shows that that approach works as well when combined with academics. For the past two years our preschool summer program has emphasized Hopi language development and the arts, but has also followed the Arizona State Standards for Early Childhood in all subject areas. That program will be available again for summer 2010 as a model for integrating language, arts and academics," he concluded.
2009 proved to be successful in terms of both funding and student attendance. As a result, Hopitutuqaiki has developed a state and national interest in how the school nurtures and inspires educational excellence and vigor for its students who are a cross-generational and multi-ethnic mix of people who live and work on Hopi.
Utilizing the philosophy that "a flower grows best in its own pot of earth," Hopitutuqaiki offers classes that cost as low as $60 for a two-week session to a little over $150 for some of the more intensive classes like glass blowing or air brushing, only because it requires more expensive studio materials.
Classes are purposely kept small so that there is a deliberate art bonding process between "master" teacher and students. These "masters" are all recognized art award winners or notables in their specific area of study, and include both Hopi and non-Native teachers.
Another success factor is that the classes are held on the Hopi reservation so that there are direct ties to the land, culture and Hopi language.
The Hopi language is utilized every day in every single classroom, whether the students are Hopi or not. This encourages a unique exchange that is not offered anyplace else in the world.
Some of the class offerings include silversmithing, glass blowing, kilt making, weaving, traditional cooking, painting, poetry/creative writing, clay, basket making and "Art for Kids."
The Hopitutuqaiki is dedicated to a more traditional way of education. The educational process for this art school focuses on Hopi language and culture and nurtures a student's natural internal strengths while following all required state and federal standards.
The school and its academic successes were featured in 2009 in the Navajo Times as well as being showcased online at Canku Ota and Indianz.com.
Hopitutuqaiki has also had student representatives at featured native art shows this year including Sharlot Hall in Prescott and the Museum of Northern Arizona in Flagstaff.
Students who complete the summer program walk away with more self-confidence, a better self-image and are much more aware and cooperative about working within their own home environment in both a physical and social understanding.
For more information on the summer class schedule, call Rhodes at (928) 734-2433.
More like this story