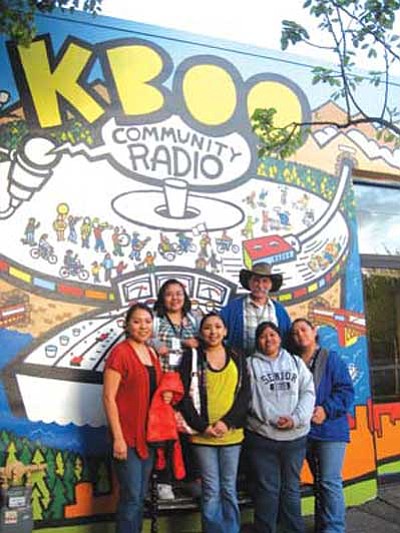 Originally Published: May 4, 2010 10:40 a.m.
PORTLAND, Ore. - Four Hopi High School journalism and broadcast radio students learned tips from professionals, broadcast from an Oregon radio station and competed in national competitions while attending the national Journalism Education Association (JEA) Conference April 15-18.
Approximately 2,000 journalism students from throughout the nation attended the conference at the Oregon Conference Center in downtown Portland.
The four students attending from Hopi High were Bruin Times Sports Editor Lele Leyva, Patrese "Tree" Honie, Rebecca Talayumptewa and Gerri Sehongva.
The first session the students attended caught them off guard because it only told them it was about storytelling. Oregonian Visuals Editor Rob Finch presented how the Oregonian covered an assisted suicide. Oregon is the only state that has legalized assisted suicide based on the Death with Dignity Act. While the students found the issue sad, it also held their attention as everybody felt compassion for Louvelle Svart, the woman in the story.
Svart had terminal cancer. She battled the cancer for a couple years before getting to the point that she decided to get the "cocktail" from the doctor. She was able to have friends and family with her in her last hours.
Despite dying of lung cancer, she was not able to give up smoking.
"Three cheers for those who can quit," she said on the video.
Finch said during the coverage of Svart's cancer, he became her friend. However, he did not get an emotional reaction until after she passed. One of the points of the story is that the country needs to talk more about death and dying.
After the Friday morning session, the students prepared to compete in their national competitions. Only one student from each school was allowed in each section. Leyva competed in sports writing, Honie was in the editorial writing, Talayumptewa was in broadcast commentary and Sehongva competed in broadcast newswriting.
Sehongva and Talayumptewa were at a disadvantage because radio broadcasting competitions weren't offered, so they competed in television broadcasting.
This was Hopi High's first year at the JEA conference so it was a fact-finding tour to see what happens at the conference and what they need to do compete at the national level after winning many state awards for several years.
Keynote speaker Tim Harrower gave a humorous but educational presentation to the students Friday afternoon about newspaper and magazine design. He has been an editor, designer and columnist for large, medium and small newspapers.
Harrower's first book, "The Newspaper Designer's Handbook," has been used in newsrooms and classrooms throughout the world. His followup book, "Inside Reporting," is America's most popular journalism textbook.
He continues to lead journalism workshops, consults with designs and delves in multimedia.
Harrower said the key to good designs include attracting people's eyeballs, delivering the data, using big photos, using extreme crops and odd angles. He said students can use different fonts, sizes and colors. He noted that more newspapers put the reader into the story to help them understand it.
Harrower said the latest in newspaper is "chunking" or breaking parts of the story up into different sections. Each short section gets a different label or subhead.
While it is generally better to run shorter stories, Harrower said serious news story or columns can run longer. Quizzes or checklists can also catch their reader's eye.
Radio student interviews at KBOO
On Friday night, the Hopi High radio students performed interviews on KBOO radio station, a community radio station in downtown Portland.
During the taped segment, KBOO youth radio personality Zoe Laringer interviewed Leyva. Sehongva interviewed Laringer and Talayumptewa interviewed Honie. Like KUYI, KBOO has a mix of music in their programming.
Talayumptewa said the most exciting part of the trip was experiencing the professional radio station at KBOO.
"We got to go on the air and talk. That was awesome," she said.
Leyva also loved going on the air at KBOO.
"KBOO radio station was cool. I was interviewed by 12-year-old Zoey Laringer. She was younger than us, but looked older. I was scared when I went on because that was my first time getting interviewed," Leyva said.
More sessions
On Saturday, the Hopi High students attended two sessions at the conference. The first session was "Perfect Packaging for Your Story." This session was led by John Forsyth who has taught broadcast journalism for 15 years and print journalism for 20 years. He advises daily and weekly shows at Waynesville High School in Missouri.
Forsyth spoke to the students about the importance of voice overs, stand ups, talking heads and sound on tape. He told the students that they need to use natural sound.
"Think about what are your best elements. What would offer a compelling beginning," he said. "Use your reporter's strengths and think about what is the focus of the story."
Forsyth also spoke about ethics in broadcast journalism telling the students they shouldn't stage an event without telling the viewer and they shouldn't insert music into a hard news story because it is a form of editorializing.
The Hopi High students attended a session called "Get grants to fund your broadcast program." Mike Riley led this session. He has an MFA in fiction from the University of Montana. He has taught in prisons, public schools and reservations.
He currently teaches newspaper and television production in Cody, Wyo.
Riley spoke about getting sponsorships, applying for state grants and targeting businesses that sell to high schools.
Aside from the educational aspects of the trip, the students had a chance for some sight seeing. They visited Voodoo Donuts, the Saturday Market and Tryon Creek State Park. They also stayed in shape by going on the Williamette River walk.