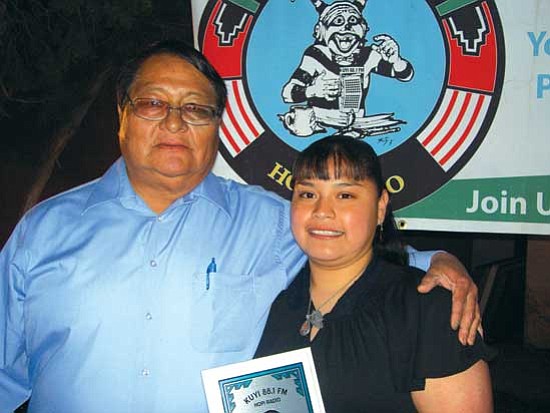 Originally Published: March 23, 2010 3:45 p.m.
KYKOTSMOVI, Ariz. - KUYI 88.1 FM, Hopi Radio, a project of The Hopi Foundation, hosted its inaugural Listener Choice Award Celebration on March 12 at the Hopi Cultural Center. The 2009 Listener Choice Award (LCA) recipients were presented with plaques commemorating their musical achievements in four different categories: Best Traditional Artist, Best Female Artist, Best Male Artist, and Best Contemporary Artist.
Accepting the Best Traditional Artist Award posthumously on behalf of their father, Ferrell Secakuku, and on behalf of Hopi language preservationist and educator, Anita Poleahla, who could not attend, were Bonnie Secakuku and Kim Secakuku Baker.
The Best Female Artist Award went to Sheree Lomatawaima who stunned the crowd with her haunting voice and then brought smiles to their faces with her performance of an unreleased song about sneaking out to play bingo.
The Best Male Artist Award went to Ed Kabotie. He spoke and sang to the memory and artistic presence of his father Michael Kabotie through his guitar and flute music.
The final award went to the Best Contemporary Artist, Re-coil, the husband and wife team of Doreen and Stephen Etsitty. They serenaded the 100-plus attendees with rousing and heartbreaking country western tunes.
This past year marked KUYI's third Listener Choice Awards, created in 2007 to provide KUYI listeners with the opportunity to voice their picks for their favorite artists. KUYI staff and volunteers decided to make the leap and acknowledge both the artists and their fans with a community celebration event partnering with the Hopi Cultural Center.
For those who were not able to attend the event, live remote coverage was provided thanks to KUYI volunteer, Daniel Dashee, who engineered the broadcast at the KUYI station.
Beginning in the open air plaza of the Hopi Cultural Center, celebration attendees enjoyed delicious food and beverage as well as giveaways and prizes. As the sun went down, the KUYI crowd moved indoors to enjoy the presentation of awards and musical entertainment.
KUYI DJs, Jennifer Joseph and Randall Mahle presented the awards and kept the crowd entertained with their fluent Hopi and Tewa, describing just why each artist is considered at the top of their musical field. The following KUYI staff provided invaluable assistance before, throughout and after the event: Richard Davis, Station Manager; Macadio Namoki, Marketing and Development Coordinator; Davis Maho, Operations Assistant; and Maria Garcia, Production Assistant.
As celebrations go, all good things come to an end and the crowd filed out into the night expressing thanks and gratitude for a chance to meet and enjoy in person a few of today's choice American Indian performers.
For more information on The Hopi Foundation see www.hopifoundation.org and KUYI Hopi radio www.KUYI.net. A project of The Hopi Foundation, KUYI 88.1FM, Hopi Radio broadcasts across Hopi, Navajo, and other parts of Northern Arizona. KUYI partners with Hopi High School, Hopi Health Care center, KNAU and is an NPR affiliate.