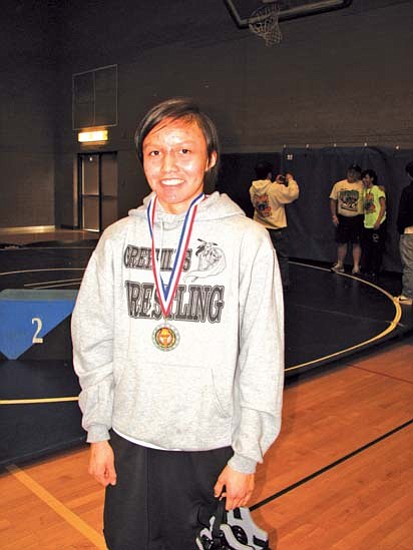 Originally Published: March 9, 2010 1:49 p.m.
PHOENIX, Ariz. - On Feb. 27, Greyhills Academy wrestler Francita Bitah swept the competition with first period pins and was crowned four-time Arizona Girls State Wrestling Champion. Bitah won her first state title in 2007 in the 103 pound weight class and finished with her fourth straight title at 109 pounds at Deer Valley Middle School where the 2010 Arizona State Girls Wrestling Championships were held.
Bitah is a four-year varsity wrestler at Greyhills Academy High School and has become one of the best lightweight wrestlers in Arizona. She has years of wrestling going back to elementary school and at Tonalea School. This season, Bitah compiled a 42-9 record with a second place finish at Holbrook's Pat Kenny Invitational, fifth place at the Joseph City Invitational and third at the 2A North Regionals.
When asked about her opponents, Bitah stated, "It felt like it was getting tougher [with] each tournament and I learned a lot through the meets. I never gave up and tried not to give up pin points when I lost."
As a three-time qualifier for the AIA Arizona State Wrestling Championships, Bitah's level of competitiveness against boys and girls is much appreciated. The most overheard comment is how tough she is. She has even created a fan base of young wrestlers wanting to watch her wrestle. Her advice to upcoming young female wrestlers is "never give up and set high standards for yourselves."
Bitah has made it a priority to maintain her 3.0 GPA even with the pressure of having to go through strenuous practices the last four seasons.
"I plan on continuing to college to become a dental assistant and eventually into a university to become a dentist," Bitah said.
For a great and outstanding ambassador to represent Greyhills Academy High School, Tonalea and Tuba City; parents, staff and community members recognize the achievements of a wonderful person and athlete and wishes all the best to Francita in her future endeavors.