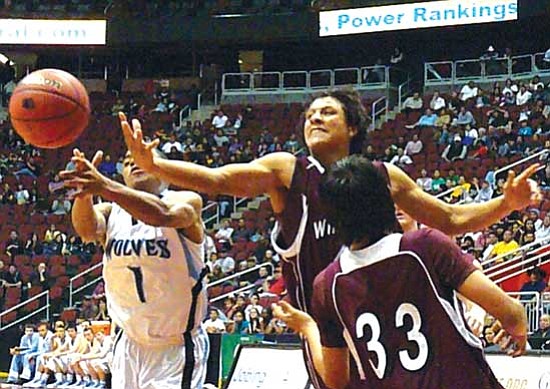 Originally Published: March 2, 2010 11:25 a.m.
GLENDALE, Ariz. - The Estrella Foothills Wolves defeated the Winslow Bulldogs 65-43 in an Arizona State 3A Conference semi-final game on Friday. The Wolves, who were heavy favorites to win the tournament, went into Saturday's Championship Game with a 30-1 record. Winslow ended its season with an impressive 28-6 record, and with many of its players returning for the next season.
The Bulldogs valiantly held the heavily favored Wolves to a much lower score than has been their custom and were actually tied with them at 13-13 after the first quarter. The Wolves built a 27-18 halftime lead with a high scoring second quarter and a lack of offense for the Bulldogs. An even larger difference in scoring came in the third period as the Wolves built a 49-29 advantage.
Corey Hawkins led all scorers with 26 points for Estrella Foothills. Troy Coleman was also in double figures for the Wolves with 16 points. Lakota Shirley was the only Bulldog in double figures with 11 points.
The Wolves had previously scored over 100 points in their other tournament games, but holding them well below 100 was one of the reasons Winslow fans and coaches were proud of the team's efforts.
The Round Valley Elks played the Wolves very well in Saturday's Championship Game and actually led them late in the third quarter. Estrella Foothills had a strong fourth quarter and won the championship 77-57.
Even with their loss, the Bulldogs and their fans left Jobing.com arena with their heads held high and their pride strengthened by their good effort, especially on defense.