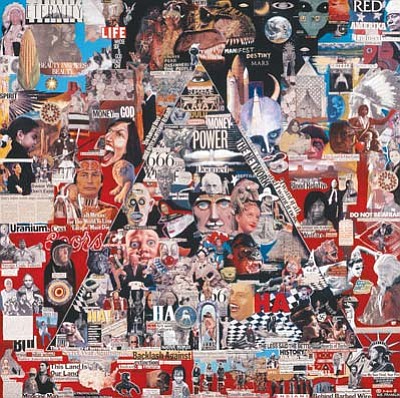 Originally Published: June 23, 2010 1:04 p.m.
FLAGSTAFF, Ariz. - Bucking the system might feel good sometimes, but does it allow for success? This is something that noted Navajo artist William Franklin considers as he displays a collage for the second time since its creation several years ago.
Some years back, Franklin had several boxes of Newsweek and Life magazines taking up space. He started cutting out images and words relating to Native Americans and "the establishment."
"As an artist, I wanted to do something to express my concerns and frustrations," Franklin explained. "I thought about the fear that Native Americans bear as they look back, at the present and into the future, and we wonder, 'what is in store for us?'"
Franklin's collage, "The End of the Trail: The Past, the Present and the Future," is the result.
This and three other paintings by Franklin are currently on display at the Coconino Center for the Arts as part of its Contemporary Native American Artists show. Walking into the gallery, one can immediately recognize two of Franklin's pieces side by side on the back wall -bold, colorful, and modern. Two other pie ces are hung elsewhere. One work - "Morning Blessing Songs: Our Inheritance" - can be identified as well; it is strikingly different. "The End of the Trail" is jarringly discordant to the other three pieces. One is surprised to find that Franklin is the artist.
Where "Morning Blessing Songs" is harmonious, flowing, soothing - a depiction of how the world should be, "The End of the Trail" is black and red, unsettlingly angry, and reveals the condition of America as it is for Native Americans, according to Franklin.
Pointing out one phrase, "Don't ever cross my threshold," Franklin says that he's "heard these words said in the past."
When asked to explain, Franklin considers with a tilt of his head.
"In regards to art institutions and galleries that I work with, I've been told, 'don't come around to sell your artwork. We aren't interested, and people aren't interested in your work,'" Franklin answers. "This isn't just from institutions, but from some of my contemporaries. I feel that there is a lot of animosity and jealousy among Native American artists."
Franklin has found that Native American artists have been held to certain standards, and are not free to express their true feelings, whereas mainstream artists are free to use their work to express social and political messages freely.
"Many artists are stuck where they repeat the same theme, over and over. They basically do the same thing over and over," Franklin says. "My work is diversified. My compositions differ and my work is not readily recognized as that of W.B. Franklin."
Franklin participated in a show at the Pueblo Cultural Center in the Avenue Gallery several years back where 26 of his images were displayed.
"People stated that they originally believed that 26 different artists had made those paintings," Franklin explains. "That show hung for two and a half years, from July 2006 into 2008."
Returning to "End of the Trail," Franklin recalled a period in his life that was full of chaos, including an attack by a fellow artist.
"There is a lot of money tied up in Native American art," Franklin acknowledges. "It's somewhere in the billions. The market is so big that even China is duplicating Native American art. The same is true in Honduras and Nicaragua - authentic Native American art has been displaced; and there is now a hierarchy that has created a plantation mentality."
Franklin believes that this mentality has created a situation where there is no freedom of speech - and this is true among other groups in America.
"Look at the fishermen in the gulf right now [being affected by the oil spill]," Franklin says. "Some are afraid to speak out; those who [stay quiet] are the ones who get paid. If you speak out you will be ostracized, you will not be invited to shows; and you become a non-person."
Franklin admits that "End of the Trail" is a very controversial piece.
"It makes a statement than many Native Americans would like to articulate, but for many reasons it is difficult for them to say what's on their mind," Franklin explains. "It's my duty as an artist to make statements on my behalf and on behalf of others who can't."
There are many messages flung across Franklin's canvas, both in words and in images - and an important one is the question of what exactly is an American.
"We Native Americans are not referred to as Americans by the average ... person," Franklin says. "We are referred to as 'Indians,' and we have become divorced from calling ourselves Americans. We must take control and own what is called "American."
Franklin stands before his collage full of sharp teeth and images of hell, Native American heroes like Quanah Parker, Russell Means, Leroy Jackson, Geronimo, and gazes across the gallery to "Morning Blessing Songs" - the piece he considers his masterpiece.
"'Morning Blessing Songs' represents our inheritance - it's at the opposite end of the spectrum," Franklin says with a smile. "There has to be that balance, it's like night and day. You can't have good without evil.