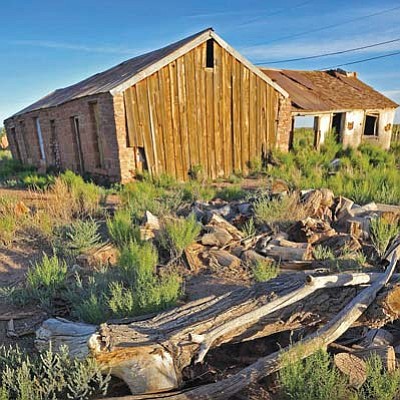 Originally Published: June 15, 2010 5:10 p.m.
WINSLOW, Ariz. - Winslow was established in 1881 when the A&PRR (Atlantic and Pacific Railroad) built a terminal at what is now Winslow. Winslow's first settler was F.G. Demarest who lived in a tent. Five years prior in 1876, the small Mormon settlement of Brigham City was located one mile northeast on the Little Colorado River. Some of the structures remain and initial restoration was begun in 2009.
Brigham City was one of four contemporary Mormon settlements in the Winslow area. The other three were Obed, Sunset and Joseph City. In 1879 four more Mormon settlements were established south of Winslow at Woodruff, Snowflake, Taylor and Show Low. Brigham City was used briefly as the local headquarters during the construction of the Atlantic Pacific Railroad.
In February 1876, Brigham Young called four of his captains together to organize a group of 300 people in four companies to settle the Arizona Territory. Captain Jesse O. Ballinger, along with 35 men - some with families - arrived at Brigham City (Ballinger's Camp) in the spring of 1876, placing the 21st Mormon "Arizona Stake" in the Arizona Territory, here.
A square fort 200 feet per side and an eight-foot high wall was constructed of locally quarried Moenkopi sandstone. Inside the walls were 36 dwelling units, a dining room that could seat 150, a kitchen with bake house (later annexed), cellar, storehouse, water well, rooms for soap and pottery making, and a leather working shop.
In addition, there was a school, pottery firing kiln and blacksmith shop. There was a well outside along with a gristmill.
About half of the 274 acres was used for growing wheat. Livestock were also kept at the site in corrals. Brigham City had a medieval fortress appearance because the settlers were worried about being attacked by local Native Americans. The northeast and southwest corners were bastions that provided lookouts and the ability to fire on invaders approaching the walls. Due to severe weather, floods and alkaline water, the settlers were allowed to leave in 1881 and released from their duties by Elder Erastus Snow.
An identical settlement called Sunset was located across the Little Colorado River from Brigham City, in a northeasterly direction. Over time it was washed away by floods and nothing remains of this settlement today.
It's been surmised that the La Posada Hotel used sandstone from Brigham City to enclose the lawn and gardens on the west side of the hotel.
Many decedents of the original Brigham City still live in Winslow and surrounding areas. A Brigham City restoration committee has been formed, with the group working on some initial restoration in April 2009.
For more information contact Gordon McHood at (928) 289-6719.
Special thanks to the Olds Trails Museum, located at 212 North Kinsley Ave., for providing specific details identifying existing structures.
More like this story