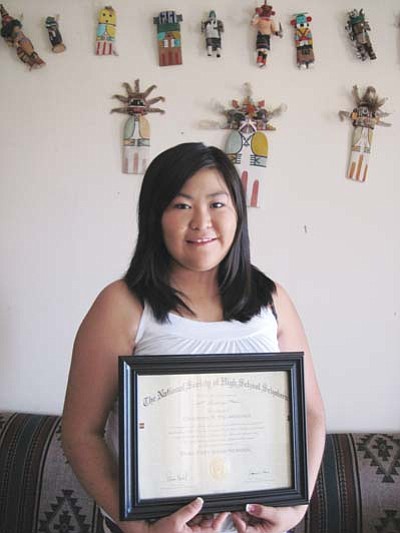 Originally Published: June 8, 2010 1:03 p.m.
HOTEVILLA, Ariz. - Charnel Talashoma says math is her favorite subject because it's "challenging." If that's the case, then challenge must be a breeze since her academic efforts recently paid off with an award from National Society of High School Scholars.
Talashoma, 17, has been in the National Honor Society at Tuba City High since she was a freshman and is interested in pediatrics as a final career goal. She is a member of the Hopi Tribe from the village of Hotevilla on Third Mesa.
"I am hoping to go to school out of state when I graduate next year, just for the travel experience, but have also been looking at university programs closer to home too" she said.
From the Tobacco clan, Talashoma is the daughter of Pam Ovah and Herschel Talashoma. Until her freshman year, Talashoma attended mostly Hopi schools. That's when she asked her family if she could travel the daily 100-mile round bus ride to Tuba City from Third Mesa everyday to go to school.
Eventually, she was able to move in with one of her relatives so that she wouldn't have to leave so early on the bus, especially during the spring when the school district switches to daylight savings time, which makes the bus run even earlier for the Hopi students who commute from Hopi.
"My favorite teacher is Ms. Sally McCabe. She makes math so interesting and everyday there is something new to learn in her class. Ms McCabe has helped me learn how to study, how to understand how to make math a lot of fun," Talashoma said.
Selection for the National Society of High School Scholars requires an endorsement from a teacher or administrator at the attending school. Talashoma has shown superior academic promise over the past four years, and also exhibits the other qualities that the NSHSS looks for, which is sacrifice, commitment and community service to their home community.