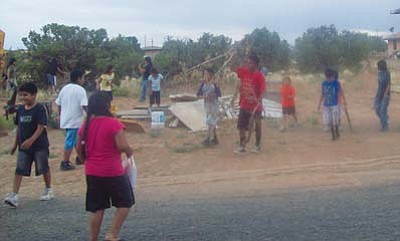 Originally Published: July 28, 2010 2:06 p.m.
HOTEVILLA, Ariz. - During the summer, Hotevilla children keep busy through the efforts of Pam Ovah and her staff at the Hotevilla Youth Center. During the summer months kids attend telescope making activities to look at the stars. On a recent night they had a pajama party complete with a marshmallow roast, scary movies, and pizza. During the wood picking the kids could be heard yelling in Hopi to each other to keep motivated and to thank each other in the traditional method.
In addition to these types of events they go to the Wellness Center and work out on weights. Representatives from the Wellness center come to the center to give presentation on good health and substance abuse prevention.
According to Delvin Lamson, the kids have a good time they take them to the fitness center and they are well behaved.
Ovah was also recruiting runners for the upcoming Pueblo Revolt run from Moencopi to the villages. The runners will come from Moencopi through the village up through the old road into the plaza and onto Bacavi. She encourages anyone interested to sign up at the center.